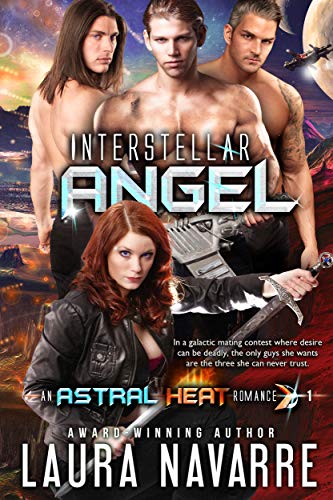 Interstellar Angel: (An Astral Heat Romance #1)
By Laura Navarre
Free

$2.99

(Please be sure to check book prices before buying as prices are subject to change)

---
In a galactic marriage contest where desire is deadly, the only guys she wants are the three she can never trust.

Strap yourself in for this action-packed, enemies-to-lovers paranormal romance simmering with slow burn sci-fi why choose heat.

In a faraway galaxy, rebel princess Kaia is the daughter of a tyrant who's worshipped as a god by billions. She's just become the prize five hundred testosterone-fueled suitors will lie, seduce, and slaughter to possess in a ritual contest for her hand in marriage. Too bad the only guys she wants are the three she can never trust.

Zorin is a scourge-of-the-galaxy space pirate and the most dangerous possible match. Dex is the icy imperial enforcer who hunts him. And Nero, the mesmerizing telepath who betrayed Kaia and nearly destroyed her, is a major distraction for all of them. These four have a cargo of shared secrets and a shared passion so combustible it breaks every dangerous rule on a world where lovers are crucified for forbidden unions. Their illicit heat will either save all their races…or get the four of them killed when a god unleashes a death warrant for their heads.

Interstellar Angel is Book 1 in the fully complete why choose Astral Heat Romance series. One-click for intense out-of-this-world adventure in a cliffhanger series with a guaranteed happily-ever-after and enough heat to set your spacesuit on fire.

Read More...
---
---

© 2022 CraveBooks. All rights reserved