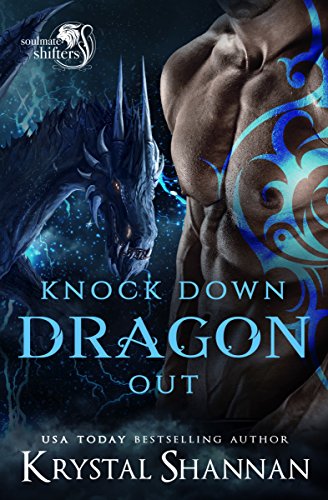 Knock Down Dragon Out (Soulmate Shifters in Mystery, Alaska Book 1)
By Krystal Shannan
Free

$4.99

(Please be sure to check book prices before buying as prices are subject to change)

---
She never expected to be attacked by dragons. Nor to go to bed with her smoking-hot savior...

Naomi Parker craves a hard reset. Unable to shake the grief of her fiancé's fatal accident, the photographer heads to the Alaskan wilderness to capture the breathtaking nature. But before she can focus her lens, she's shocked when dragons attack… and a drop-dead gorgeous creature comes to her rescue.

Shifter-prince Col is on the hunt for revenge. So when he plunges through a portal, he's ready to strike when he spies his enemies standing over their injured prey. But the powerful fire-breather is stunned to discover the victim is an unbelievably attractive mortal… and his fated mate.

As Naomi recovers from her injuries in a nearby cabin with her newfound protector, she can't resist the undeniable urge to let the man-beast take her to bed. And though Col struggles to contain his lust, he fears claiming the curvaceous woman as his own will only put them both in lethal danger.

Can the destined couple outlast deadly threats and embrace a future in each other's arms?

Knock Down Dragon Out is the steamy first book in the Soulmate Shifters in Mystery, Alaska paranormal romance series. If you like sexy giants, smoking-hot chemistry, and dangerous distractions, then you'll love Krystal Shannan's dive into insatiable yearning.


INTERVIEW WITH THE AUTHOR:
Q: Aside from the Soulmate Shifter Series, what other books do you write and what order should I read them in?
A: I have several other completed paranormal romance series. The Sanctuary, Texas series has an apocalyptic flavor and is set in a small Texas town. It's a wild ride with lots of romance, adventure, and enough heartache to make you need a box of tissues several times.
My Viking Vampire

My Dragon Masters

My Eternal Soldier

Mastered:Teagan

My Warrior Wolves

My Guardian Gryphon

My Vampire Knight
The VonBrandt Pack Series is another reader favorite! This series is set in a small town called Somewhere, TX. I actually have three series set in the world of Somewhere, two paranormals and a contemporary set with crossover characters.
To Save A Mate

To Love A Mate

To Win A Mate

To Find A Mate

To Plan For A Mate

To Chase A Mate
Then spin off into the Moonbound series that picks up where the VonBrandt's leave off.
The Werewolf Cowboy

The Werewolf Bodyguard

The Werewolf Ranger

Chasing A Wolf

Seducing A Wolf

Saving A Wolf

Broken Wolf

Hunted Wolf
SOULMATE SHIFTER EBOOK CATEGORIES
Paranormal Romance

Werewolves & Shifters

Witches & Wizards

Supernatural Shifter

Science Fiction & Fantasy

Paranormal and Urban Romance

Fantasy Romance

Dragons & Mythical Creatures

Myths & Legends

Literature & Fiction

Mythology & Folk Tales

Horror

Dark Fantasy
Read More...
---
---

© 2022 CraveBooks. All rights reserved