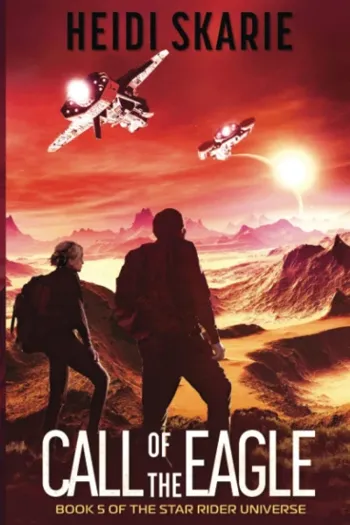 Call of the Eagle
By Heidi Skarie
$3.99
(Please be sure to check book prices before buying as prices are subject to change)
ONE RECKLESS DECISION AND NOW HE MUST FACE A SINISTER WORLD CONQUEROR IN BATTLE. . .
During a time of interplanetary war, Baymond escaped heartbreak by joining the galactic air fleet. Now he faces death daily while living on a military space station far from his home planet. His latest assignment is to travel to a war-torn planet on a reconnaissance mission.
Meanwhile, Princess Fawniteen is expected to marry Prince Radcliff to form a political alliance between their countries. But when Radcliff's father dies, she realizes she's still in love with Baymond and wants control over her life.
Fawniteen breaks off her engagement and travels across the galaxy to be with Baymond. She joins him on what's proposed to be a peaceful mission. Instead they find themselves cut off from the space station and war erupts.
When Baymond and Fawniteen become separated, he must face his hardest trial yet when he's captured by the enemy when searching for her.
Will Fawn and Baymond survive their separation by war? Can Baymond draw on his unique gifts and defeat a powerful sorcerer-deity to save the galaxy?
READ
CALL OF THE EAGLE
TO CONTINUE THE BATTLE FOR FREEDOM!
Digital Books

Book Length: Long Novel – 320-650 Pages
Leave a review about Call of the Eagle. Login Now