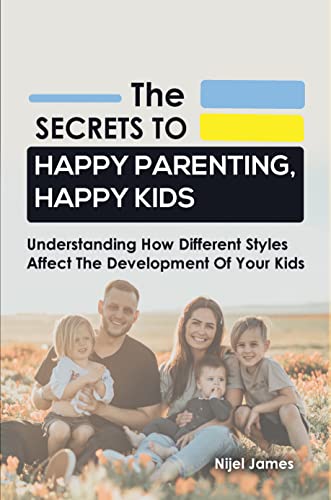 The Secrets to Happy Parenting, Happy Kids : Understanding How Different Styles Affect The Development Of Your Kids
By Nijel James
$4.99
(Please be sure to check book prices before buying as prices are subject to change)
There are several challenging phases in one's life, and parenthood and child development are one of them. In my quest to become a better parent by understanding the psychology of a child's mind, I have discovered that many parents become depressed because the challenges of parenthood seem to be overwhelming. However, parenting and child development can be made easy if you have the proper knowledge about what parenting ought to be. As much as parenting requires intentionality and hard work, it shouldn't take our happiness and life away. Our approach to parenting and child development determines whether we will be happy parents who will raise happy and well-behaved kids or not.

The Secret to Happy Parenting, Happy Kids is a parenting book and child development book written to help you understand how different parenting styles affect the development of your kids. While you may become worried that you have a child who always throws tantrums (as was the case with my wife) or acts cold towards you, you need to pause and check your parenting styles and what you are not doing right. Are you doing positive parenting? Kids are like a computer, garbage in, garbage out. So, the question is, what are you inputting into your children?

No child is naturally bad or good; the parents' efforts, positive parenting, and inputs make the difference between children who make their parents happy and vice versa. You can't assume that you know or have all it takes to raise a well-behaved kid because in parenting, like any other thing, learning never ends.

This Parenting book is not to judge or dictate how to train your child; it only provides well-researched and practical steps that will help you to raise happy kids. I have extensively explained many topics that may seem new to you about parenting, child development, and raising kids. Therefore, I advise that you take your time reading this Parenting book and practice the tips and skills of parenting designed to help you raise children that will make you smile now and in the nearest future.

Digital Books

Book Length: Novella – 60-150 Pages
Leave a review about The Secrets to Happy Parenting, Happy Kids : Understanding How Different Styles Affect The Development Of Your Kids. Login Now