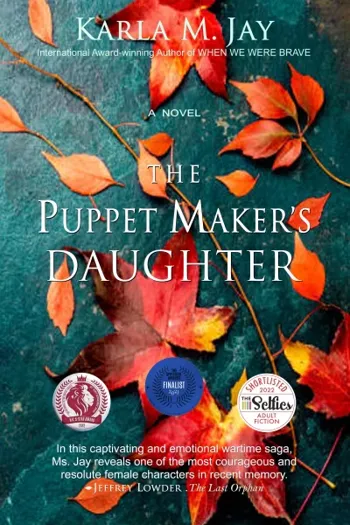 The Puppet Maker's Daughter
By Karla M. Jay
$9.99
(Please be sure to check book prices before buying as prices are subject to change)
Hungary 1944. The war comes late to Budapest. Nineteen-year-old Marika, forced out of nursing school, believes she and her Jewish family will remain safe, even as Nazi soldiers fill their cobbled streets. With Russians to their east, the Allies to their west, everyone assumes the war is nearly over. Her father, once a prominent engineer, returns to his passion for puppet making. Soon, she is pulled into the resistance to rescue orphans and displaced Jews while keeping her family one step ahead of Eichmann's extermination plans.

As the world turns dark around her, the fanatical Arrow Cross Party, a ruthless group that listens to no one including the Germans, unleashes a killing spree on the remaining Jews of Europe. One day, as peril intensifies, she must make a decision that puts her in extreme danger to save herself, her family, and the orphans she's sheltered.

Will she regret that moment for the rest of her life?

This a heartbreakingly beautiful novel that celebrates the resilience of the human spirit and the durability of family even if the members are patched together with remnants of other shattered lives.

Digital Books

ASIN:
B09R9B1WJT
ISBN:
979-8985322200
Book Length: Novel – 150-320 Pages
Leave a review about The Puppet Maker's Daughter. Login Now