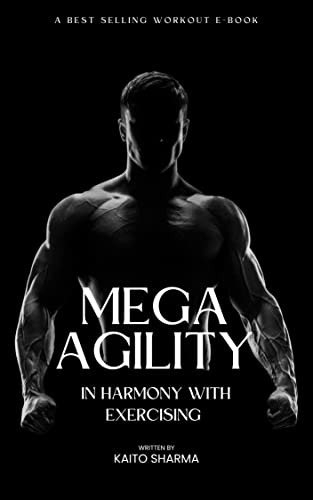 Mega Agility : In Harmony with Exercising: Best Book for Exercising Motivation
By Kaito Sharma
$2.99
(Please be sure to check book prices before buying as prices are subject to change)
What if I told you there are 25 hours in a day? Would you believe it? You'll say that what I am saying is totally absurd. I know, right?
To think that one can include exercising along with everything going on around you like your hectic working hours and tight schedule. That sounds absurd too. Am I right?
If you have never been into sports or working out, This might sound hard to you. If you have never engaged yourself in working out or physical activities, then this might even sound daunting to you. Along with the mentioned things, to think that one can manage both effective exercising and busy work schedules can take a toll on your mind too. If it is not done effectively. And If you don't feel like doing it, your mind just tells you that You are just not into it.
Hi there, My name is Kaito Sharma and I am from Rajasthan, India. I manage multiple Youtube channels, and blogs all alone. I too, just like you, have a super busy schedule and I've been able to trick my mind into understanding the importance of exercising. And I believe deep in my heart that, Just as I did, YOU TOO can change your life with the help of this book. Just one thing that I want you to do while reading this book, Is that, you should keep a notebook nearby, so that you can write down anything that you feel is important while reading this book. Enjoy!
Digital Books

Book Length: Short Story – 0-60 Pages
Leave a review about Mega Agility : In Harmony with Exercising: Best Book for Exercising Motivation. Login Now