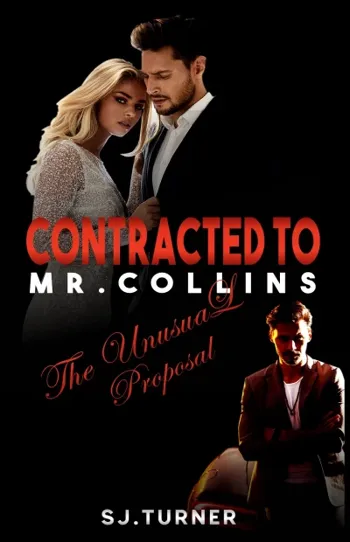 Contracted to Mr. Collins - The Unusual Proposal
By SJ. Turner
$2.99
(Please be sure to check book prices before buying as prices are subject to change)
A steamy erotic romance that will keep you on the edge of your seat as the almighty Aiden Collins - the gorgeous CEO of Collins Enterprises - takes his new account executive on the date of her life.

— I absolutely love this book!!! I'm not much of a reader, but this book caught my attention, and I was hooked
— Sherree

Hearing about an account executive position at Collins Enterprises with a $75,000 base salary, Rebecca D'Angelo is eager to apply. Putting together a stunning portfolio and an impressive résumé, she marches herself directly down to the office. When she reaches the building, a notice on the front door catches her eye.

DEADLINE - Résumés for the Account Executive position must be received no later than 10 am this morning.

She checks her phone – 9:51 am.

Panicking, she darts toward the information desk. At first, Rebecca has no idea what she's run into – a moving brick wall?

Crashing to the floor, her latte and portfolio launch into the air. Her first thought – thankfully, my documents are in a protective cover. Then a set of large hands wrap around her arms and a deep rumbling voice echoes above. "Jesus Christ! This is not a schoolyard, young lady!"

Rebecca slowly peers up, her eyes anchoring on the most gorgeous creature she has ever seen. His beautiful cobalt blue eyes shine like stars against a perfect bronze tan, emphasized by neatly combed black hair that flawlessly tapers to meet a designer beard. She can feel the power radiating off his 6'4" GQ cover body as he wipes her latte from his crisp white shirt and expensive Armani suit. There's no mistaking who this man is — Aiden Collins, CEO of Collins Enterprises.

Sh#t!

Surprisingly, she's made it to the final round of interviews. Though, today's interview will be conducted by the one and only — Aiden Collins himself. Yep. That's right. That means her fate at Collins Enterprises now lies solely in his hands.

On the bright side, it's been three weeks since the latte incident, and after all, she has made it this far. That must mean he's forgotten. Right?

Digital Books






ASIN:
B097F1GMN5
ISBN:
9781777764610
Book Length: Novel – 150-320 Pages
Leave a review about Contracted to Mr. Collins - The Unusual Proposal. Login Now