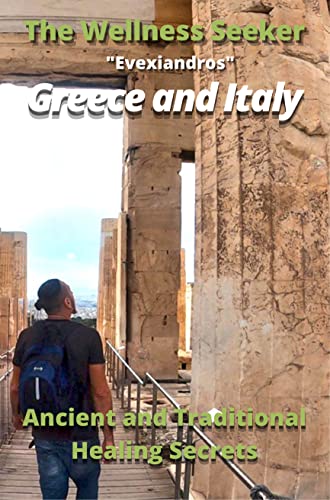 Greece and Italy - The Wellness Seeker: Ancient and Traditional Healing Secrets
By Evexiandros
$9.99
(Please be sure to check book prices before buying as prices are subject to change)
Greece and Italy are strongly connected. The Romans were influenced by the Greeks in many fields, including art, literature, philosophy, religion, and science. In this journey, I understood how to use philosophy as medicine for mental health and why modern psychology considers spiritual fathers not the great psychologists and psychiatrists of the 19th and 20th centuries, but the classical Greek philosophers.

Ancient Greek and Rome Spirituality
Greek Philosophy a Medicine for the Soul
Ancient Greek Medicine
Mediterranean Nutrition and Longevity
Ancient Greek and Rome Athletics
Mediterranean Superfoods

I came closer to the real Christian teachings. I explored the secrets of the Mediterranean diet and tried to find out why some people reached longevity in those places. Finally, I learned more about the ancient Greek medicine, the Mediterranean plants and superfoods.

Digital Books

Book Length: Novella – 60-150 Pages
Leave a review about Greece and Italy - The Wellness Seeker: Ancient and Traditional Healing Secrets. Login Now