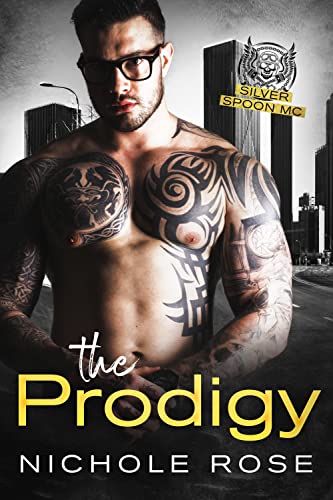 The Prodigy: A Curvy Girl MC Romance
By Nichole Rose
$2.99
(Please be sure to check book prices before buying as prices are subject to change)
Meeting his curvy soulmate switches this computer genius from laid-back MC brother to Beast mode in the blink of an eye.

Finn "Hacker" Taylor
I've always been the quiet brother in my MC.
The resident genius who gets things done and keeps his head down.
I prefer my bike and my computers to most people.
Until I set eyes on Scarlett Crawford, the curvy new clerk at Gatsby Books.
She's the sweetest little bookworm who makes me laugh like no other.
Now, I'm spending all my time looking for reasons to stalk the bookshop.
When I find out someone is harassing my woman, all bets are off.
This shy little thing is going to be mine.
And whoever is bothering her will answer to me and my MC.

Scarlett Crawford
When I took a job at Gatsby Books, I did not know it came with a stupid-hot biker.
Finn Taylor makes my mouth do things I didn't permit it to do.
And my heart feel things I didn't give it permission to feel.
Don't even get me started on what he does to the rest of me!
When he's around, nothing else matters.
Including the odd little man who keeps popping up all over the place.
As soon as Finn finds out about him, my life turns into a testosterone-fueled fantasy.
And then it derails in ways I never expected.
When the dust clears, my happily-ever-after looks a lot different than I thought it would.
But all the best fairytales usually work out that way, don't they?

More Books in this series from Nichole Rose
Leave a review about The Prodigy: A Curvy Girl MC Romance. Login Now