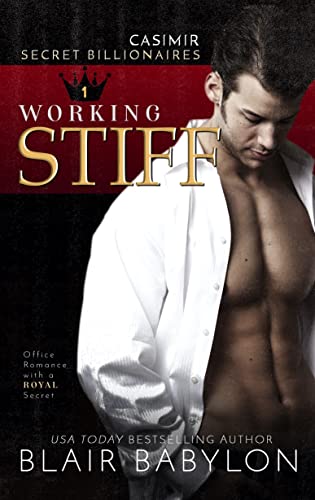 Working Stiff
By Blair Babylon
Free

$0.99

(Please be sure to check book prices before buying as prices are subject to change)

---
When Rox was hired, she told her smoking-hot boss Cash that she was married, but she's not. Now, three years later, she's kind of accidentally living with him, and he's being a perfect gentleman, dang it.
Everybody in the office said that Cash was a heartbreaker, that he'd bump her and dump her, so Rox decided not to become a statistic. She went out and bought herself some rings of the finest cubic zirconia so that she could work with Cash, who was several inches over six feet tall, emerald-eyed, ripped, gorgeous, his tailored suit clinging to his athletic body, sporting a British accent, and loaded.
It had seemed like such a good idea at the time.
But now, three years later, she and Cash have become friends. They travel together for work often, and they're the best of buddies.
When Rox gets thrown out of her apartment, Cash insists that she come live with him until they can find her a place because that's what friends do.
Now, even though everyone in-sists that Cash never goes after married women, something about him has changed. There are little touches, little slips, and Rox is more and more tempted to tell hunky, gorgeous Cash that she never was married.
And then he'll take her and break her, and then he'll walk away, and then she'll lose her job, and she still hasn't found a place to live.
And yet, every time he looks at her with mischief in his dark green eyes, every time they're teasing and it somehow turns into tickling, every time she swats at him and somehow ends up in his arms, she wants so much to risk everything.
What's a working stiff to do when she falls in love with her friend, the boss?
INCLUDES YOUR FAVORITE TROPES:
✓ Friends to Lovers
✓ Secret Royals
✓ Over the Top Romantic Suspense
✓ and always, Thrillers that Bang!
USA Today Bestselling Author Blair Babylon writes bestselling romance books that will free your mind. These five star billionaire boss, enemies to lovers, friends to lovers, and romantic comedy romantic novels quickly turn into suspense thriller books that will make your pulse pound and soothe your heart. Whether the couple are trapped in a pretend marriage or there's only one bed, Blair's books are like romancing your own duke, mister, or billionaire. Some are an ugly cry, some are an affair to remember with a king or a prince, and some are a few shades darker, but all are unputdownable. Fans of Danielle Steel, E.L. James, Helen Hardt, Anna Todd, and Charlotte Byrd will love Blair's romantic books and romance audiobooks. Set your heart free and download these fantastic, complete series!
Read More...
---
---

© 2022 CraveBooks. All rights reserved