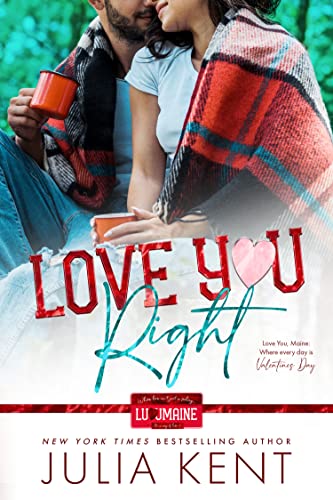 Love You Right: Small Town Enemies to Lovers Romantic Comedy (Love You, Maine Book 1)
By Julia Kent
$5.99
(Please be sure to check book prices before buying as prices are subject to change)
A
missed opportunity five years ago makes for an unexpected encounter now
between two people meant for each other – but who square off in a very
public battle of wills in the small town of Love You, Maine, where every
day is Valentine's Day. Can love conquer all in a town steeped in it?
Kell Luview refuses to be a sucker at love again.
Five years ago, he left D.C. with his tail between his legs and his
heart broken. Fiercely protective of his small town in rural Maine, he's
determined to save the family tree business and avoid his feelings at
all costs, no matter how much he longs to solve the mystery of what
happened in D.C.
L.A. native Rachel Hart hates being underestimated almost as much as she hates this small town. She
has two goals on this trip: get out of the cheesy tourist trap of Love
You, Maine with a completed business deal, and avoid running into Kell,
her old friend from D.C. who never became an old flame because of a huge
misunderstanding.
One that still aches.
When
her rental car breaks down on a logging road and Kell comes to her
rescue, it's clear he's a changed man – and not for the good. Grumpy and
reserved, he pushes all her buttons, still stubbornly convinced she
betrayed him all those years ago. He's never forgiven her, and she's
never forgiven herself for carrying a torch for him.
An
embarrassing incident gets the town gossip mill going when residents
wrongly assume Kell and Rachel are the newest couple to find love in the
most romantic place on Earth. But the townsfolk aren't wrong for
long...
As Rachel breaks through his defenses and
charms the town, he faces his biggest fear: all those pesky feelings
he's been avoiding.
Because they're all about Rachel now.
And maybe they always were.
Can Kell and Rachel fight their growing attraction in the one place in the world where you can't avoid love?
If
you're looking for a fun read about enemies to lovers, forced
proximity, heroines who get their comeuppance and sworn bachelors felled
by unexpected true love, featuring a hot bearded lumberjack impervious
to poison ivy, and a city-slicker, jaded career woman with a penchant
for great coffee, set in a small town in New England - then this is your
book.

Grab a cup of (properly good) coffee, a can of hot cocoa
mix, a jar of Fluff and maybe some calamine lotion (just in case), and
get your happymeter ready as you read the very first book in New York
Times bestselling romantic comedy author Julia Kent's Love You, Maine
series - where love isn't just a feeling - it's a way of life.

✓Standalone
✓Enemies to Lovers
✓Small town romance
✓Lumberjack and city slicker outsider
... and a cat named Calamine
Digital Books





Book Length: Long Novel – 320-650 Pages
Leave a review about Love You Right: Small Town Enemies to Lovers Romantic Comedy (Love You, Maine Book 1). Login Now