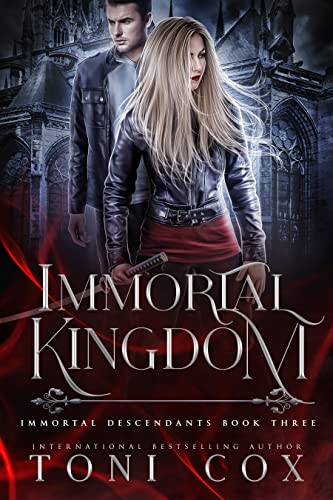 Immortal Kingdom: Book 3 of The Immortal Descendants
By Toni Cox
$3.99
(Please be sure to check book prices before buying as prices are subject to change)
The Grim Reaper came for me, and now my life is supposed to be over.
At least, that's how the story goes. No one has ever survived being taken by the Grim Reaper, but I guess this is different. At first, I didn't go willingly, but the Grim Reaper has a certain charm that is making me stay…and want for more.
Him taking me starts a civil war between the factions, and it's on us to convince them we're not the apocalypse. The New Kings won't take it lying down, though, and come after us harder than ever.
I need to relearn not only my old magic, but also my history, to stand a chance in this fight against the factions. When I do, I wield magic more powerful than ever before. But what good is it when the blood rite could be true, after all, and we suddenly have the humans hunting us?
If you like Jennifer L. Armentrout and Bella Forrest, you'll want to carry on with book 3 of this new paranormal series.
So scroll up and one-click Immortal Kingdom now.
Digital Books

Book Length: Long Novel – 320-650 Pages
Leave a review about Immortal Kingdom: Book 3 of The Immortal Descendants. Login Now