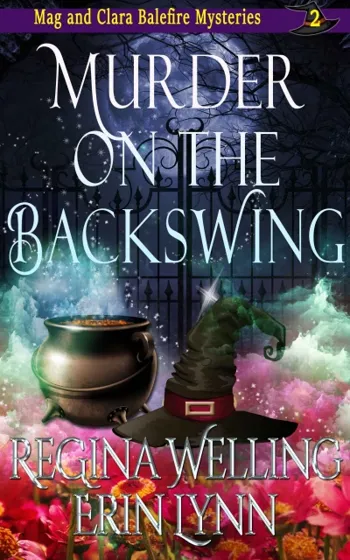 Murder on the Backswing
By Erin Lynn
$3.99
(Please be sure to check book prices before buying as prices are subject to change)
Sister witches Margaret and Clara Balefire are beginning to wonder if they should have opened a detective agency instead of an antique shop.
Taylor Dean was the worst mailman to ever put on a uniform. Everyone in the sleepy hamlet of Harmony thought so, but that didn't mean he deserved to get bashed in the head with a golf club. For Mag Balefire, the timing of his untimely death couldn't have been worse since he'd been spotted arguing with her on the morning of his murder.
For the second time since moving to the sleepy hamlet of Harmony, Clara and Mag Balefire find themselves involved in a murder investigation—only this time, catching the killer means clearing the Balefire name.
As if trying to catch a murderer wasn't enough, the mischievous elderly leader of the local coven seems intent on exposing magic to the entire town. However, things aren't always as they seem when it comes to ancient magic, and those powerful enough to wield it.

If you like magic, murder, and spunky old witches, then join the Balefire sisters as they stalk the local country club and build a love nest for perilous pixies in order to clear their good name.

Digital Books





ASIN:
B07B494VL8
ISBN:
978-1986571203
Book Length: Novel – 150-320 Pages
More Books in this series from Erin Lynn
Leave a review about Murder on the Backswing. Login Now