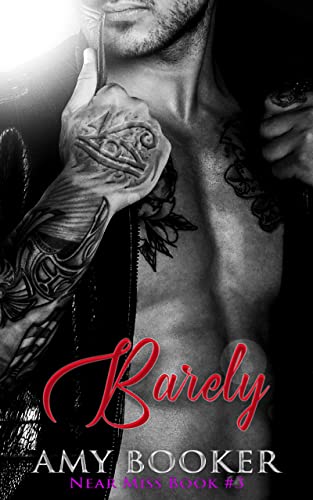 Barely: Near Miss Book #3
By Amy Booker
$3.99
(Please be sure to check book prices before buying as prices are subject to change)
All who wander may not be lost, but you just jumped off the damned map.
Jude Lockwood loves two things in life: fantasy novels and making music. A self-proclaimed player, Jude doesn't have any room in his rockstar life for feelings or commitment.
Ren Scott loves two things life: her record store and her baby daughter, Charlotte. Independent and newly single, Ren is struggling to find any time to manage her store while taking care of her daughter, much less date.
When Jude returns home to Los Angeles from a whirlwind tour, his offer to help with Charlotte (a.k.a. "Charlie") turns into a confusing attachment to his best friend and her baby. Soon, all the lines Jude and Ren have drawn between each other are blurring.
With the heart of a little girl in the mix, can they make the leap from best friends to something more? Or is the risk of ruining a decade-long friendship too much?
Book #3 in the Near Miss rock star romance series. The series consists of stand-alone novels following the trials and tribulations of the members of the band Indigo King.
Digital Books

Book Length: Long Novel – 320-650 Pages
More Books in this series from Amy Booker
Leave a review about Barely: Near Miss Book #3. Login Now