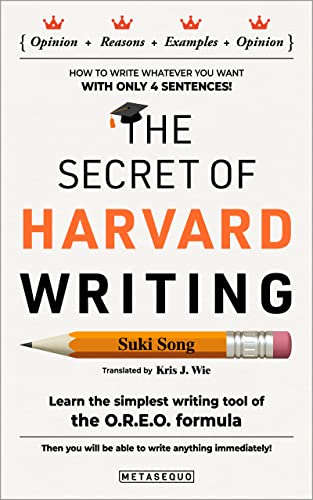 The Secret of Harvard Writing: How to write whatever you want with only 4 sentences!
By Suki Song
$2.99
(Please be sure to check book prices before buying as prices are subject to change)
Is it difficult to write even the first sentence?
Don't know what to write and how to write?
Do you want to write quickly and easily, but logically?
Learn the simplest writing tool of the O.R.E.O. formula!
Then you will be able to write anything immediately like Harvard students!
Harvard has been researching and teaching logical writing to students for the past 150 years, and it has becomed a form of communication emphasized and required by world-class universities and corporations. It is also the basic knowledge necessary for personal branding, planning, management, portfolio, communication, and culture.
Suki Song, bestseller author as well as writing coach, restructured Harvard's writing approach into the 4-line O.R.E.O. formula consisting of 'arguing Opinion, presenting Reasons, providing Examples, and emphasizing Opinion' so that anyone can use and apply it immediately while being guided easily and kindly.
Since its 2018 publication in Korea, this book has inspired confidence in writing in more 100,000 readers. It contains knowledge that enables anyone, from beginner to advanced, to write easily and quickly.
By reading this book, you can easily and promptly learn how to organize your thoughts logically, how to turn them into legible writing, how to write articles that attract others, how to use writing as a weapon so as not to fear the future in a changing era. By devoting only one hour to reading this book, you can quickly enhance your writing abilities and achieve the desired result.
From social media to product review comments, from YouTube captions to scripts, from self-introductions, meeting minutes, and reports to in-house messengers, you can obtain the desired response by swiftly conveying the idea to the other person using the O.R.E.O. formula.
Examinees, college students, office professionals, and corporate leaders who must interact with the MZ generation, as well as service workers, salespeople, marketers, creators, restaurant business owners, and gym or yoga studio managers…, everyone can write easily and get what he or she wants.
It is now your turn. You also can write easily and get what you want. This book will serve as your guide.
Digital Books

ASIN:
B0BGCHG8FB
ISBN:
979-11-978451-8-5
Book Length: Novel – 150-320 Pages
Leave a review about The Secret of Harvard Writing: How to write whatever you want with only 4 sentences!. Login Now