Complete Guideline to run a Rental Car Company on turo
Complete Guideline to run a Rental Car Company on turo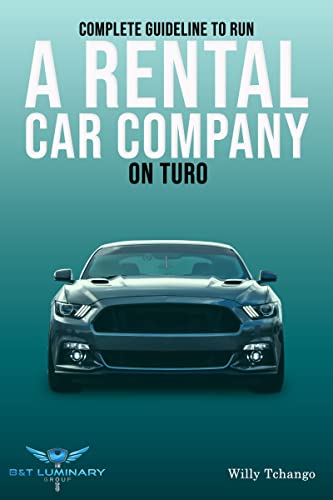 Complete Guideline to run a Rental Car Company on turo
$11.99

(Please be sure to check book prices before buying as prices are subject to change)

---
Complete guideline to run a Rental Car Company on Turo
Available on Amazon :- https://www.amazon.com/dp/B0BF35WT9H/ref=cm_sw_r_cp_api_PNAG161NK8RYV4H2TTE0
Lulu:- https://www.lulu.com/shop/willy-tchango/complete-guideline-to-run-a-rental-car-company-on-turo/ebook/product-6zg5y7.html?page=1&pageSize=4
Description:-
The current car rental industry is worth a whopping $98B and is estimated to grow to over $141B in 7 years. If you're asking, 'Can I start a rental car business with no car sales or rental experience?' The answer is… YES, YOU CAN!
In this revolutionary, all-inclusive car rental book, entrepreneur and high-profile rental car business owner Willy Tchango draws on his personal experience building his own car rental business from scratch to offer practical, common sense small business startup advice that anybody can use to launch a rental car business, even if you have never run a business before, and have little available investment money.
If you are looking for a profitable small business idea, side hustle, or second income, renting cars is ideal, because you can start by renting your own car, motorcycle, or truck, or make a great income by learning how to set up an RV rental, for that motor home that you use twice a year! Then, Willy provides step-by-step instructions for scaling your business, getting financing, buying and selling cars, advertising, and promotion, and providing first-rate customer service.
#Completeguideline #RentalCar #Turo #BusinessMoney #Business #Money #book #books #ebook #books #bookstagram #booklover #reading #bookworm #read #bookish #bookaddict #instabook #booksbooksbooks #reader #booklove #bhfyp
Read More...
---
---

© 2022 CraveBooks. All rights reserved