Wild Mustang Security Firm Box Set - Books 1-3
Wild Mustang Security Firm Box Set - Books 1-3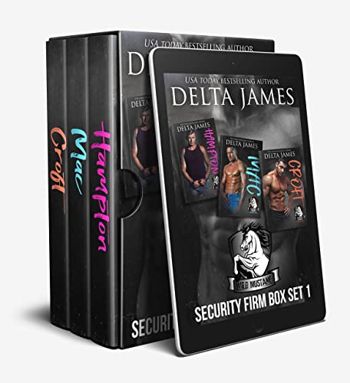 Wild Mustang Security Firm Box Set - Books 1-3
$6.99

(Please be sure to check book prices before buying as prices are subject to change)

---
The men of the Wild Mustang Security Firm are tough, strong and wildly dominant. Meet the men, and the women they love:

Hampton
He loves the chase...

When US Marshal John Hampton stops in at his favorite steakhouse, he finds that what he wants most isn't on the menu. Mandy Adams wasn't looking for love and is surprised not only by Hampton's attention but also by her quickly developing feelings.

Fearing she will be overwhelmed; Mandy flees and quickly learns that a marshal's tenacity in running down a target isn't limited only to fugitives…
Mac
She got away once... this time he'll make sure she is thoroughly claimed.

When US Marshal Ethan McDaniel is sent to Arizona on a fugitive retrieval assignment, he is confronted by his former love, Willa Reynolds. Sparks fly when Willa becomes a material witness and must submit to Mac's authority in more ways than one.
Croft
The last thing a photojournalist with a secret needs is a former Navy SEAL on a mission to find the truth.

When a ransom is demanded for her brother's life, photojournalist Finlay Reid needs a guide to the rendezvous to make the exchange. What she gets is the Wild Mustang Security Firm's Billy Crofton.

Croft is hot, ruthless and dominant. Finn tries to keep the former SEAL at bay but finds that something in his heated gaze makes her heart skip a beat. Croft never expected Finn to push all his buttons; Finn never thought she'd yield to his demands… they were both wrong.

They are about to find that the truth is even more dangerous than either of them realized…
Read More...
---
---

© 2022 CraveBooks. All rights reserved