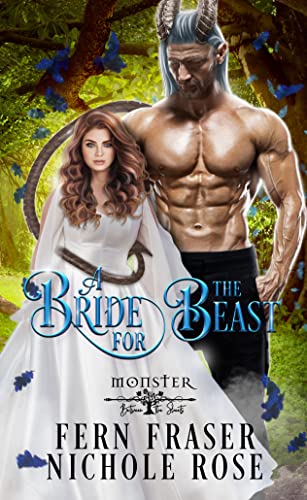 A Bride for the Beast: A Curvy Girl Monster Romance
By Nichole Rose
$2.99
(Please be sure to check book prices before buying as prices are subject to change)
International award-winning author Nichole Rose and USA Today Bestselling author Fern Fraser have teamed up to take you on a steamy-sweet adventure to a town where nothing is what it seems.

DRAVEN
I've spent my life in darkness, hidden away from the world.
It's where monsters belong after all, isn't it?
But my curvy maid, Dahlia, brings more than just order to my world.
She brings me back to life and makes me want more.
My beastly appearance doesn't scare her. Nothing does.
Except, perhaps, the father she's running from.
But I won't give her up for any man. This beauty is all mine.

DAHLIA
I spent my life fighting my strict father and his outdated opinions about right and wrong.
Accepting a housekeeping job in another state is a way of proving I can stand on my own two feet.
The moment we meet, Draven's tail sweeps me off them and straight into his arms.
I've never met anyone with more heart and humanity than the sexy, blue-haired giant.
In my father's eyes, Draven is a monster, not a man, but I'm determined to prove him wrong.
This Bride is claiming her Beast.

If you enjoy sassy women, over-the-top men (with a little something extra to offer), and steamy-sweet romance, you'll love this short monster romance!

Digital Books

Book Length: Novella – 60-150 Pages
More Books in this series from Nichole Rose
Leave a review about A Bride for the Beast: A Curvy Girl Monster Romance. Login Now