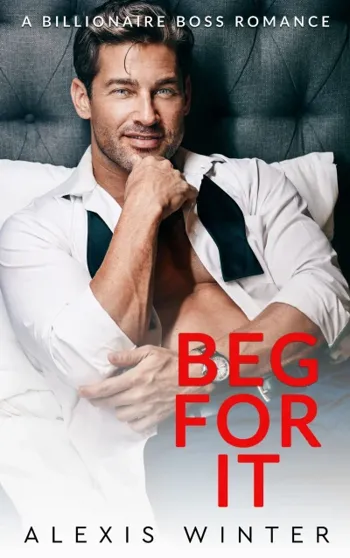 Beg For It
$4.99
(Please be sure to check book prices before buying as prices are subject to change)
You know that feeling—the one where you tell yourself it's a terrible idea but you're going to do it anyway?
Even though you know that this man isn't just your father's best friend who's twenty years your senior…he's your new boss.
I'm the girl that's always done the right thing, made the sensible and safe choices and yet here I am, fresh out of grad school feeling directionless in life and love.
So at the suggestion of my once estranged billionaire father, I agree to an interview at his best friend's company.
The moment I step into Beckham Archer's office I recognize him as the mysterious man I shamelessly flirted with and gave my number to only a few nights ago.
As much as we both try to ignore the fiery attraction between us, I can't shrug the nagging question that lingers…if he didn't recognize my name that night, would he have called me?
The power and control he possesses drives me absolutely wild, making we want to cross the boundaries he demanded we put into place.
Our resolve is hanging by a thread, stretched so thin with desire it was only a matter of time before we gave in.
I know it's a mistake.
I know I risk losing the relationship with my father I've worked so hard to repair.
I know he's going to rip my heart out and possibly destroy my life but it's too late to turn back now.
While he thinks it's just my repressed rebellion, acting out against my father for abandoning me as a child…it's so much more.
He listens to me, offering to mentor me and providing me the guidance I lacked in my childhood.
The more I get to know him...the harder I fall. I soon realize there's more to this man than a billion dollar empire and a wall around his heart.
Even his warning that all he can offer me is a fantasy gets drowned out by lust the second our lips finally meet.
But our little secret doesn't stay quiet for long and the reality that this could all come crashing down is staring me in the face…along with Beckham's pregnant ex.
I want more than the fantasy or one night, I want it all. But does he feel it's worth the risk or worth fighting for?
One thing I've learned about Beckham Archer—he's the type of man that doesn't wait for people to do something; if he wants it, he makes it happen.
The type of man that has me wanting to break all the rules.
The type of man that can make me beg for it.
Digital Books

Book Length: Novel – 150-320 Pages
More Books in this series from Alexis Winter