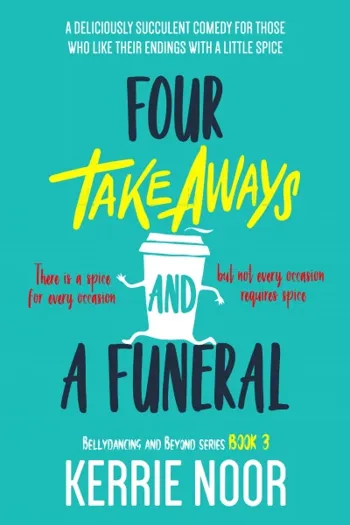 Four Takeaways And A Funeral
By kerrie Noor
$3.99
(Please be sure to check book prices before buying as prices are subject to change)
Mavis and Lumpy are getting married, but they can't agree on anything. Will they learn to compromise or break up over the size of their wedding cake?
Mavis and Lumpy argue over everything from the venue to the size of the paper plates and when Lumpy befriends the local Indian takeaway their relationship spirals out of control. Lumpy talks of a "curry" in the village hall while Mavis dreams of chandeliers and smoked salmon.
Mavis's sister arrives to "sort things out". She wins over Lumpy with hilarious budget ideas that would have Scrooge tap dancing, Mavis wants to tap dance on her sister's head and is on the verge of throwing it all in and join a nunnery when her mother dies.
With a funeral befitting a sitcom, sibling rivalry on a par with a Shakespearean tragedy, and a dying mother's impossible wish; Mavis and Lumpy relationship crumbles like a burnt chapatti, Lumpy is part of her mother's dying wish.
Mavis is forced to do things she'd rather not, while her sister faces a past she'd rather forget and Lumpy skids between the two with no idea how to keep the peace. Will the funeral be the final straw for Mavis and Lumpy or is there a chance for something better?

Digital Books

ASIN:
B07DCF2HP7
ISBN:
978-1719175173
Book Length: Novel – 150-320 Pages
Leave a review about Four Takeaways And A Funeral. Login Now