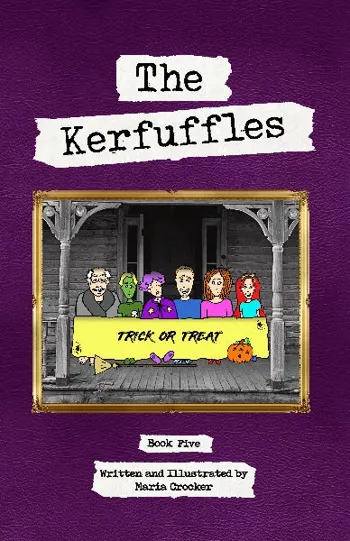 The Kerfuffles: Trick or Treat
$2.99
(Please be sure to check book prices before buying as prices are subject to change)
Recommended for children who enjoy having a good laugh. The Kerfuffles is a funny, light hearted series guaranteed to bring a smile to children's faces.
Written in the third person, the reader is able to experience many hilarious situations from different characters' viewpoints, making the series even more entertaining for the reader. It is aimed at children from approximately 8 to 11 years old.
The Kerfuffles is an illustrated series of fictional children's novels following a day in the life of the Kerfuffle family living in Australia. The series includes 5 novels. (Book One: Back to School, Book Two: Mysterious Neighbours, Book Three: Double Take, Book Four: Chickpea Soup and now recently released Book Five: Trick or Treat).
Synopsis for the latest release Trick or Treat – "
It's Halloween!
An old haunted house, surrounded by large limestone walls, sits alone on the other side of Ibis Lake.
The FORBIDDEN side.
Drake and Cindy Kerfuffle have been warned against venturing anywhere near the rundown property. But tonight, against their better judgement, they are tempted to visit it.
Who actually lives there?
Will all the rumours be true?
Halloween is the perfect night of the year to find out!"
The Kerfuffles – Trick or Treat, the fifth book in The Kerfuffle Series is available free on Kindle from October 14 12AM PDT until midnight October 18 PDT.
More Books in this series from Maria Crocker
Leave a review about The Kerfuffles: Trick or Treat. Login Now