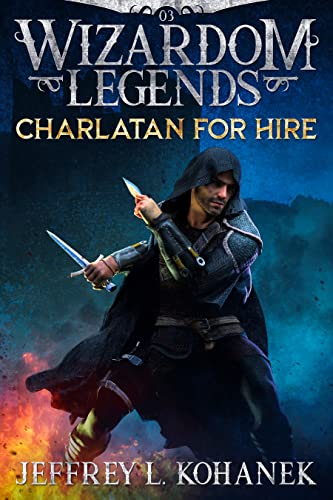 Wizardom Legends: Charlatan for Hire (The Outrageous Exploits of Jerrell Landish Book 3)
$3.99
(Please be sure to check book prices before buying as prices are subject to change)
A powerful crime lord. A mighty wizard. A web of nefarious schemes designed to snare the one thief willing to challenge them.
A new crime lord has risen, claiming control of Marquithe's underbelly. Ruthless and powerful, this man demands Jerrell join his ranks.
Jerrell refuses, instead preferring his independence, but soon realizes he cannot face the entire theives guild on his own.
With a gorgeous and conniving partner at his side, he acquires a new client willing to pay an outrageous sum if he can execute the impossible: Steal over a ton of silver from a mine controlled by a powerful wizard and guarded by an army of soldiers.
Action, intrigue, and betrayal await in this outlandish conclusion to Jerrell's solo adventures.

This fast-paced fantasy heist series is perfect for fans of Nate Temple, Locke Lamora, or Harry Dresden.
Download and embark on a humorous, action-packed adventure.
___________________________
The Outrageous Exploits of Jerrell Landish features a fan-favorite character from Fate of Wizardoms and Fall of Wizardoms. This spin-off trilogy can be enjoyed as a starting point for NEW readers or as pure catnip for Wizardoms veterans.
Digital Books

Book Length: Novel – 150-320 Pages
Leave a review about Wizardom Legends: Charlatan for Hire (The Outrageous Exploits of Jerrell Landish Book 3). Login Now