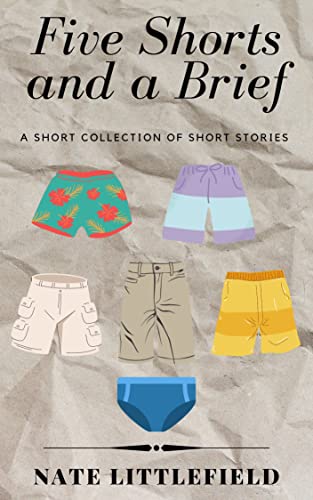 Five Shorts and a Brief: A Short Collection of Short Stories
$0.99
(Please be sure to check book prices before buying as prices are subject to change)
What do two struggling scuba diving instructors, an aging troll, an overweight cyclist, two frugal sisters, a restless young boy, and a teenager living out the last day of his life have in common? They're all to be found within the pages of Five Shorts and a Brief.
Five Shorts and a Brief is a collection of five select short stories and a work of flash fiction from the author of the Southern Waters Adventure Series, Nate Littlefield. Within this collection, you will find:
"Anniversary Blues." Set along Florida's Gulf Coast in the world of the Southern Waters Adventure Series, this short story features Rex and Rose Fisher, first introduced in the novel Endangered Species. "Anniversary Blues" takes us back to the year 1976, as the one-year anniversary of the opening of R and R Divers approaches. While the story draws from the Southern Waters Adventure Series, it may be read as a stand-alone story, or as an introduction to the series.
"The Troll Under the Bridge." We're probably all familiar with the Norwegian fairytale of the three goats who crossed a bridge only to encounter a fierce troll. Well, actions have consequences. Now we get to find out the real story!
"Returns Policy." You see them cycling down the road in their spandex bike shorts, sweating and suffering, as automobiles offering air-conditioned comfort whiz by. Are they crazy?
"The Death of Arnie Richardson." Some people can eat just about anything!
"What My Dad Got Me." A small boy in a smaller rural southern town yearns for something more.
"The Sisters Searcy." Accept your invitation to enjoy the hospitality of two of the sweetest elderly sisters you'll ever meet, Janet and Evelyn.
Digital Books





ASIN:
B0BJB1W1YQ
ISBN:
9798358982345
Book Length: Short Story – 0-60 Pages
Leave a review about Five Shorts and a Brief: A Short Collection of Short Stories. Login Now