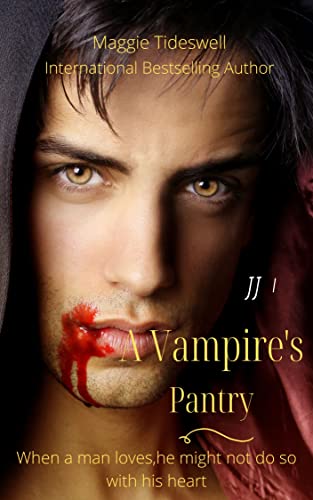 A Vampire's Pantry: Paranormal Vampire Romance (JJ Book 1)
$2.99
(Please be sure to check book prices before buying as prices are subject to change)
Lyle is in love with Jared, but he has eyes only for Sophia, who wants to marry Zane, who is a vampire, although he is adept at concealing his true nature. He doesn't want to be a vampire and believes his cure is in the blood of a virgin. But his plans go horribly wrong.

When a vampire is near, a witch is sure to appear. A spell is cast within the heart, that love will come and not depart - a secret handfasting performed without the bride and groom being present. They didn't even know each other, but will be brought together when the time is right.
Zane and Sophia dated for a year when she decides to deepen the relationship, but the spell did not include Zane, and virgin Sophia Benning accidentally makes love with the wrong man, the one the spell brings to her, and falls pregnant. But Zane is tenacious, and even with Jared's smell on her, he merely adjusts his plans for her. He becomes really weird.

Fortunately, Sophia isn't alone. A witch, a lawyer, a reporter and a slayer work together for her protection.
Digital Books

Book Length: Long Novel – 320-650 Pages
Leave a review about A Vampire's Pantry: Paranormal Vampire Romance (JJ Book 1). Login Now