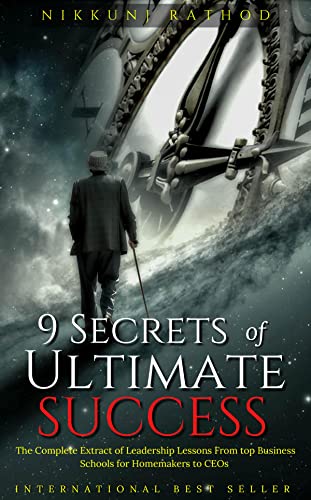 9 Secrets of Ultimate Success: master the nine secret elements of highly successful leaders, the complete extract of leadership lessons from top business schools, explore the habits of winning
$8.99
(Please be sure to check book prices before buying as prices are subject to change)
Powerful Techniques to Live Happy and Successful Life, Road to Ultimate Success made Smarter and Faster!
Do you find yourself you are not l doing good in your life? and stress is taking over you?
Do you wonder despite trying harder why you are not able to enjoy your life?
How you would be able to your life change if you can change the perception, mission, and vision of life!
What if you could learn the most effective techniques that would not only help you to live happier than before but will also help you to find the biggest purpose of your life.
Imagine having access to a fully loaded toolbox with the sharpest thinking tool you could use stress and anxiety moreover to live an ultimately successful life!
Imagine your confidence-boosting up if you master the effective mental techniques followed by the high performers and get your desired happiness and success!
9 Secrets of Ultimate Success is your succinct guide with the most effective Success Strategies (though a few might sound counter-intuitive) to help you learn how to happier and ultimately successful life.
Here is what you will learn in 9 Secrets of Ultimate Success:
· How an individual can train him/herself to achieve ultimate success.
· How I transformed myself from a stressed to an ultimately successful person.
· How your success is not only dependant only on your financial success and what matters most.
· Outstandingly helpful for teenagers and young people.
· It will be extremely helpful to remove your mental blocks SUCCESS.
· 9 Secrets of Ultimate Success is not only a self-help ebook but is a life-time coach for men and women of any age group.
Take Your First Step to Redefine the success in your life and unleash the real you. Click the BUY BUTTON above!
Digital Books

Book Length: Novel – 150-320 Pages
Leave a review about 9 Secrets of Ultimate Success: master the nine secret elements of highly successful leaders, the complete extract of leadership lessons from top business schools, explore the habits of winning. Login Now