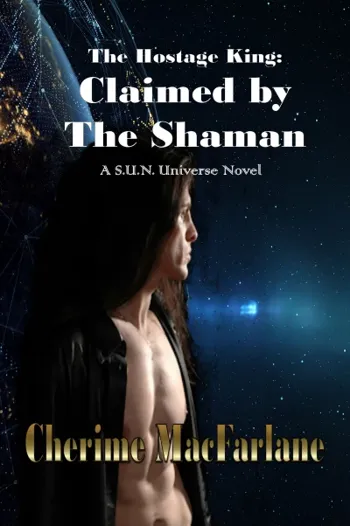 The Hostage king: Claimed by the Shaman: A SUN Universe Novel
$3.99
(Please be sure to check book prices before buying as prices are subject to change)
He's desperate for a mate. She flies solo. When their worlds
collide, will they come together to fight for those who matter most?
Tsela
worries for his people's safety. Concerned they'll lose their home if
the secret gets out that they're colonists not natives, the alien shaman
king fears an intergalactic recession will make them a target for
pirates. But with their only means of defense requiring the leader to
have a partner, all hope is lost… until a beautiful mercenary makes
planetfall.
Commander Silver Eirson never backs down
from a challenge. Embarking on a simple in-and-out mission to collect
samples from a distant globe, she's shocked to encounter an unknown
population led by a handsome man. With her contract in tatters upon
discovery of inhabitants, the hardened nomad struggles to deny a growing
attraction to their compassionate ruler.
As raiders
ravage the cosmos, Tsela works quickly to win over the woman who could
save his populace from a catastrophic onslaught. And as Silver aids the
species she's grown to admire, she knows giving in to her desires could
cost her the freedom she craves.
Will this unlikely pair form more than just a powerful alliance?
His Silver Warrior
is the fast-paced first book in the S.U.N. Universe science fiction
romance series. If you like witty characters, steamy connections, and
futuristic settings, then you'll adore Cherime MacFarlane's
action-packed adventure.
Digital Books







Book Length: Novel – 150-320 Pages
Leave a review about The Hostage king: Claimed by the Shaman: A SUN Universe Novel. Login Now