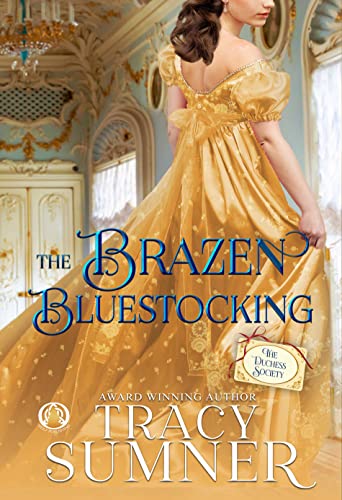 The Brazen Bluestocking (The Duchess Society Book 1)
By Tracy Sumner
$4.99
(Please be sure to check book prices before buying as prices are subject to change)
"A heartwarming love story filled with captivating characters. Sparks fly and emotion runs rampant, moving one from laughter to tears as this page-turner delivers its unique happily ever after." ~ Anna St. Claire, USA Today Bestselling Author

In this Regency Romance by USA Today bestselling and award-winning author Tracy Sumner, a willful bluestocking matches wits with a devilish scoundrel she never expected to desire with every beat of her heart.
A defiant society outcast.
A scandalous rogue who doesn't believe in love.
And a passionate wager.
Daughter of an earl, Lady Hildegard Templeton hasn't conformed to what society expects from a woman of her station. Industrious and unique, she's created an emboldened organization for women on the cusp of marriage, The Duchess Society. Called a bluestocking to her face and worse behind closed salon doors, she vows to marry for love. And nothing but. Although the emotion has yet to show itself to her. Until she meets him.
Bastard son of a viscount and king of London's sordid streets, Tobias Streeter has spent a lifetime building his empire, and he needs the Duchess Society to find a suitable wife to ensure his place in society. But he vows his search will have nothing to do with love and everything to do with vengeance. Until he meets her.
Soon, Tobias and Hildy's plans are in turmoil as they must choose between achieving their goals or a life filled with love.

The Duchess Society Series
#1 The Brazen Bluestocking
#2 The Scandalous Vixen
#3 The Wicked Wallflower
Leave a review about The Brazen Bluestocking (The Duchess Society Book 1). Login Now