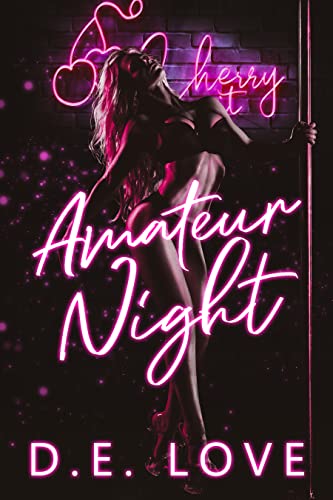 Amateur Night
By D. E. Love
$1.69
(Please be sure to check book prices before buying as prices are subject to change)
Regina didn't plan on taking her top off...
... when she danced on Amateur Night.
But when Mr. Dark Eyes laid out twenty-dollar bills on the stage, she was tempted.
She didn't need the money. As a high-end sex therapist in L.A. she made a very decent living. She just enjoyed dancing. It exhilarated her. She felt free.

And she deserved that feeling now that her relationship with her ex-husband had become less contentious. The men at the Cherry Pie Gentleman's Club were usually well-behaved. They were just looking for a pretty stripper to slide one-dollar bills inside their g-strings.

When she danced in front of Mr. Dark Eyes, he calmly commanded her to take her top off, and she did. When he asked her for a private lap dance in the Cherry Pit, she was tempted. Again, not for the money, but because he was handsome, dressed well, and his dark eyes made her melt. Plus, when he slipped those twenty-dollar bills inside her panties and kept her bra, she had to give in to his command.

What could possibly go wrong?
When Mr. Dark Eyes and his lawyers showed up at his office on Monday morning, she was about to find out.
You'll love this billionaire age gap romantic suspense because of the steamy scenes, developing love triangle, and escalating suspense.

Get it now.

Digital Books

Book Length: Long Novel – 320-650 Pages
Leave a review about Amateur Night. Login Now