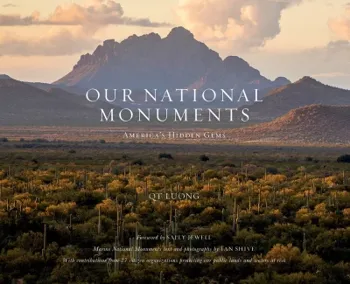 Our National Monuments: America's Hidden Gems
By QT Luong
$55
(Please be sure to check book prices before buying as prices are subject to change)
Discover spectacular and less-traveled alternatives to bustling national parks with this superb coffee table book: the first photography book about the landscape-scale national monuments, including introductions from local conservationists and travel notes for each photograph. Winner of five national book awards.

With the stroke of a pen, the president of the United States can proclaim a national monument. The Antiquities Act of 1906 was enacted to provide an expedited means to protect areas of natural or cultural significance. Since then, 16 presidents have used the Act to preserve some of America' most treasured public lands and waters. In 2017, an unprecedented executive order was issued questioning these designations by calling for the review of 27 national monuments across 11 states and two oceans, opening the threat of development to vulnerable and irreplaceable natural resources.

Our National Monuments, the first book of its kind, introduces these spectacular and unique landscapes at risk from the review. From the north woods of Maine to the cactus-filled deserts of Arizona, these national monuments include vast lands rivaling the national parks in beauty, diversity, and historical heritage. The critically important landscapes are often under the radar, with limited visitor information available, yet offer considerable opportunities for solitude and adventure compared to bustling national parks.

QT Luong - one of the most prolific photographers working in America's public lands and author of the best-selling and acclaimed photography book about the national parks, Treasured Lands - hiked and camped in the 22 land-based national monuments under review, aiming his lens at the grand vistas, archaeological wonders, and hidden delights along the way. Accompanying the collection of 300 scenic photographs is an invaluable guide that includes maps, descriptions of the author's wide-ranging explorations and highlights for each of the monuments. Introductory essays from leaders and activists of 27 conservation associations provide the perspective of citizens caring for each of these national treasures. A foreword by former Secretary of the Interior Sally Jewell, as well as photographs of marine national monuments from Ansel Adams award-winning photographer Ian Shive round out this comprehensive portrayal of America's hidden gems.

Our National Monuments invites readers to experience for themselves these lands and learn about the people and cultures who came before - for whom these sites remain sacred places - with a renewed understanding of how these essential landscapes are preserving America's past and shaping its future.

Digital Books
ASIN:
173357607X
ISBN:
9781733576079
Book Length: Novel – 150-320 Pages
Leave a review about Our National Monuments: America's Hidden Gems. Login Now