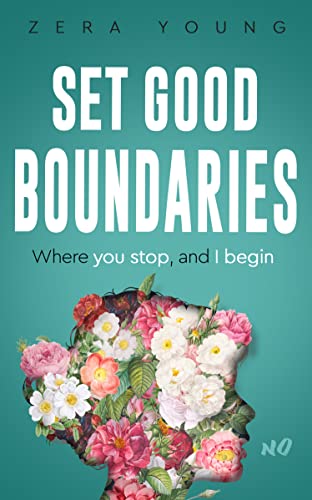 Set Good Boundaries: Where You Stop, And I begin (Live Your Truth Book 2)
By Zera Young
$3.99
(Please be sure to check book prices before buying as prices are subject to change)
Learn to set firm boundaries, build meaningful relationships, and safeguard your inner peace with this powerful guide
Who is really in control of your life?
Do you ever struggle to strike a balance between your needs and doing things for others? Does conflict-avoidant behavior make you feel submissive to a family member or friend? Does it ever feel like you are sacrificing your inner peace and disregarding the things that make your heart jump for someone else's sake?

Set Good Boundaries is the essential handbook that teaches you how to set boundaries in existing relationships and start off on the right foot as you develop new ones.

Exercises connect you with your core needs and train you to set boundaries naturally and effortlessly. You have the potential to enrich every relationship in your life, and this book will help you tap into that power.

If you are struggling with a toxic relationship, feel overwhelmed and stressed because of all the obligations in your life, or just plain can't say "no" without feeling guilty, this book is for you.

Imagine being able to breathe a little easier because you've gained the tools to assert your needs and desires with confidence. Some of the expert advice this book includes:

* Discover why it's so difficult to set boundaries in the first place (the answer might be surprising)
* How to set boundaries with family, friends, and even your boss
* Discover the power of vulnerability and how to use it in your favor
* Expose where boundaries are lacking even if you are unaware they are needed
* Simple conversation starters that guarantee you maintain control when setting new boundaries
* Deconstructing the lie of selfishness
* How to handle a toxic relationship or a person who invalidates your feelings
* Proven tips for saying "no" and making it stick
* Step-by-step strategies that train you to assert yourself with confidence
* How to break away from people-pleasing habits and prioritize your needs - without fracturing healthy relationships
* And so much more!

Research from top psychologists and experts in the field of human behavior is paired with practical how-to exercises that have empowered countless people to take the difficult steps toward setting necessary boundaries. This, combined with insights and relatable examples, will give you the tools and the confidence to approach more difficult conversations.

Even if you constantly put other people first, avoid conflict like the plague, or simply don't know where to start - this book will give you a full understanding of the boundaries you need to thrive, guide you through real-life exercises to establish them, and equip you to maintain those boundaries for a lifetime.

Digital Books

Book Length: Novella – 60-150 Pages
Leave a review about Set Good Boundaries: Where You Stop, And I begin (Live Your Truth Book 2). Login Now