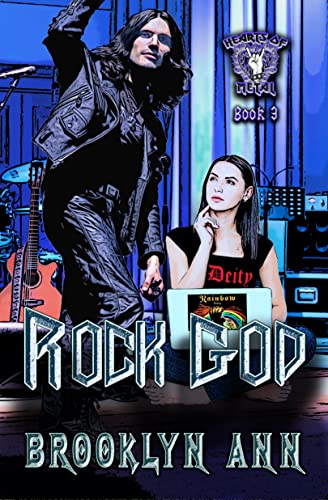 Rock God: A Heavy Metal Romance/ rockstar romance (Hearts of Metal Book 3)
$3.99
(Please be sure to check book prices before buying as prices are subject to change)
Most rock stars would be revolted if a homeless woman fainted in their arms.
Dante Deity is not most rock stars.
Shayna Gray is fleeing her past. Tragedy, infidelity, heartbreak: the midlist romance author has suffered it all. She was strong enough to run, like a spunky heroine from one of her novels, and soon she'll be flying…just as soon as she can walk again. After walking from Portland to Sacramento, Shayna wakes up in the hospital with famous rock star, Dante Deity offering to take her to his mansion to recuperate.
Unlike her abusive ex-husband or her bullying mother, Dante is determined she succeed. As he helps her recover from her grief and get her writing back, a romance worthy of her novels blooms. But Shayna knows that they can't have a healthy loving relationship until she learns to stand on her own.



Dante Deity is revered by everyone who knows anything about heavy metal music, and he's respected by everyone else. Rich, handsome, and successful, he has a voice like velvet-wrapped lightning. He juggles numerous philanthropic ventures while cranking out hits. When he's on tour, music is his life. When he's taking a break, he's thinking about his next tour—or working on a project that helps him forget he's alone. When an unconscious woman falls into his arms, Dante embarks on the biggest project of his life. Saving a damsel in distress quickly becomes a secondary mission when he realizes that his heart is on the line.
Subgenres: rockstar romance, contemporary romance, age gap romance
Tropes: rockstar hero, alpha hero, hero rescues heroine, only one bed, damaged heroine, millionaire hero

Digital Books






Book Length: Novel – 150-320 Pages
More Books in this series from Brooklyn Smith
Leave a review about Rock God: A Heavy Metal Romance/ rockstar romance (Hearts of Metal Book 3). Login Now