Barf Me Out to the Max: A 1980s Cozy Mystery (Major Bummer Murders Book 4)
Barf Me Out to the Max: A 1980s Cozy Mystery (Major Bummer Murders Book 4)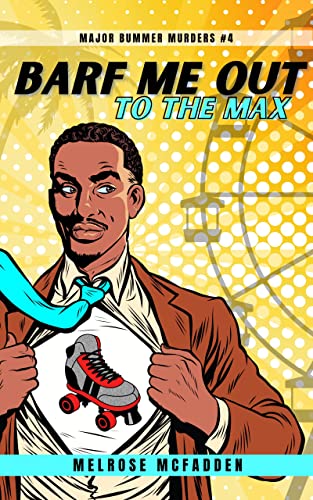 Barf Me Out to the Max: A 1980s Cozy Mystery (Major Bummer Murders Book 4)
$2.99

(Please be sure to check book prices before buying as prices are subject to change)

---
Halloween, 1986. Wahoo Beach is overrun by zombies.
This year's Haunted Wahoo Halloween extravaganza is a little out of control. The Zombie Apocalypse theme is obvious all over town, and so grossly executed that it's hard to tell the fake living dead from the regular old just plain dead.
When a roller derby promoter is found murdered in one of the Haunted Wahoo attractions, fingers and roller skates start pointing, with many of them aimed directly at local Roll & Rock rink owner Buster Jackson.
Arcade owner Tiffany Sloan, Officer Dylan Spencer, and a punk kid named Zero join forces with a cast of kooky Wahoo Beach characters to find out who committed the gnarly crime, both to clear Buster's name and to keep Wahoo Beach safe from more true Halloween horrors.

Barf Me Out to the Max is book 4 in the Major Bummer Murders series.
Read More...
---
Paperback Books
---
---
Leave a review about Barf Me Out to the Max: A 1980s Cozy Mystery (Major Bummer Murders Book 4).
Login Now

© 2023 CraveBooks. All rights reserved