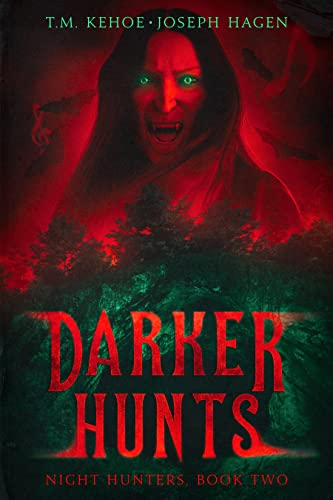 Darker Hunts: Night Hunters, Book Two: A Contemporary Vampire Thriller
By Joseph Hagen and T.M. Kehoe
$4.99
(Please be sure to check book prices before buying as prices are subject to change)
Who's hunting who?
Still reeling from the horrors of the Academy fire, Nikki and Britt can't afford to rest—the surviving vampires are still at large after killing their friends. Having lost companions in the fire as well, the vampires have vengeance on their minds, and they are much more experienced hunters of the night.
Luckily Britt has some supernatural hunter acquaintances and Nikki is looking forward to meeting them. In the meantime, a competent police detective is assigned to the Academy fire case. Disturbed by what he finds, only time will tell if his investigation will hinder Nikki and Britt's mission or if he will become an ally.
Even though Nikki has new friends this time around and has learned much more about her deadly enemy, the supernatural beasts they are going up against will not be easily exterminated. Both sides are hungry for the others' blood, and there's no guarantee that the outcome of this hunt will be any less horrific than the last confrontation.
But Nikki is sure of one thing: this time they're killing all the vampires or they'll die trying.
Featuring the best of urban fantasy and hard-hitting vampire fiction, Darker Hunts, book 2 of this fiery occult Night Huntersthriller series will have you reading until the sun goes down.
Leave a review about Darker Hunts: Night Hunters, Book Two: A Contemporary Vampire Thriller. Login Now