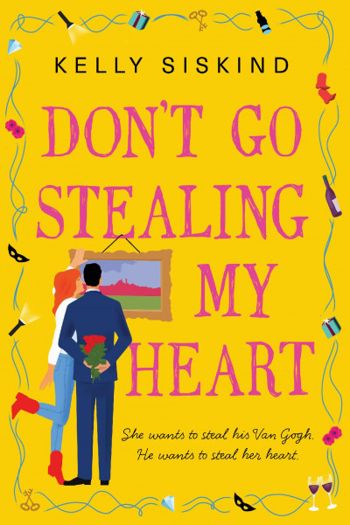 Don't Go Stealing My Heart
$3.99
(Please be sure to check book prices before buying as prices are subject to change)
"This book sparkles and sizzles with Siskind's trademark humor and heat. Don't go missing this one!" ~ Jen DeLuca, author of WELL MET

Some people would call Clementine Abernathy a criminal. She considers herself a modern day Robin Hood, who steals from the rich and gives to the poor. Not exactly on the up-and-up, but she knows what it's like to lose everything. Her latest heist involves swiping a priceless Van Gogh from its owner, who's supposed to be an egotistical trust-fund brat.

Turns out Jack David is a sexy, kind-hearted man…and Clementine is in trouble. Falling for her mark would make her the World's Dumbest Conwoman, but Jack is charmingly persistent, always singing sweet songs in her ear.

And that earth-shattering kiss? She never stood a chance.

Now she's imagining a fresh start with this dashing man, but that means telling Jack about her past. And other nefarious sorts are after the same painting. Too soon, Clementine learns what it means to risk it all for love.

One-click this funny and sexy romance today!
Digital Books




Book Length: Novel – 150-320 Pages
Leave a review about Don't Go Stealing My Heart. Login Now