When Is The Right Time To Sell My Business?
When Is The Right Time To Sell My Business?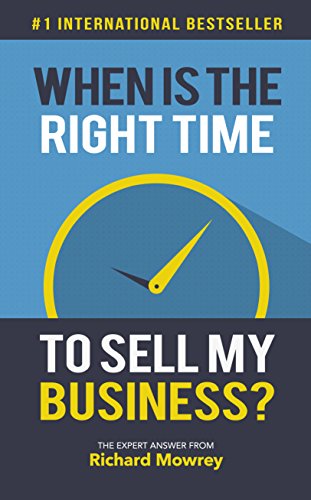 When Is The Right Time To Sell My Business?
$4.99

(Please be sure to check book prices before buying as prices are subject to change)

Deal Date: 24 Jan 2023

---
This #1 International Best Selling Book guides you through the Most Important Decision a Business Owner Will Ever Make
Sooner or later, as the owner of privately held company, you are going to sell your business. The thought of it can be overwhelming and confusing. The question is how can you ensure that you receive the best price and most favorable terms with the least amount of stress?
Business valuation and sales expert Richard Mowrey shows you exactly when and how to successfully sell your business through an actionable, financially rewarding series of steps.
Who is this book for?
When is the Right Time to Sell My Business was specifically written to help business owners and their advisors who want to:
Discover exactly what their business is worth...now, and in the future

Understand and reduce the 4 big risks in an "unplanned" ownership change

Benefit from early preparation for an eventual business sale

Increase the value of their business in the eyes of prospective buyers

Reduce operating risks and eliminate negatives that impact transaction values

Address the personal issues associated with a change of business ownership

Truly know the best time and the strategies required to assure a successful sale
For more than three decades Mowrey has built a reputation as an expert in the valuation and sales of privately held businesses. His no-nonsense approach has provided invaluable guidance to business owners who have seen dramatic increases the value of their businesses.
This international best-selling book shows you:
How to examine your business' value attributes and personal assets

The types of plans that need to be in place in order to sell your business

The four major areas of personal assessment to focus on to help crystalize your readiness to start the process
Mowrey emphasizes, "It is time to stop silently asking the question and then formulating the answer. It is time to focus on the answer first." By shifting the focus to the answer, costly hesitation and fear can be minimized, resulting in a decision backed by confidence.
You'll learn the basics of business valuation and readiness assessment – both qualitative and quantitative – to help the owner prepare to sell their business. From there the focus shifts to value enhancement and strategic planning as he explains,"Price is what you receive, value is what you deliver." Together, this preparation and the ultimate execution of a transfer plan will, when done right, will pay big, big dividends!
Mowrey also addresses:
Your personal finances so you are prepared to be without the business

How family plays a role in succession planning

The difference between financial buyers, strategic buyers, and industry buyers

Various ownership transfer scenarios and how to compare and contrast them
You'll uncover required, explicit actions, such as:
20 highly targeted questions to fire you up as you start the planning journey

4 essential steps to prepare for the sale of your business

The market factors that buyers use to make purchasing decisions

Who needs to be on your merger and acquisition advisory team
For any business owner, the thought of selling their business can raise more questions than they are prepared to answer. When is the Right Time to Sell My Business offers a systematic approach and provids a path to a confident and more profitable sale.
Read More...
---
---

© 2023 CraveBooks. All rights reserved