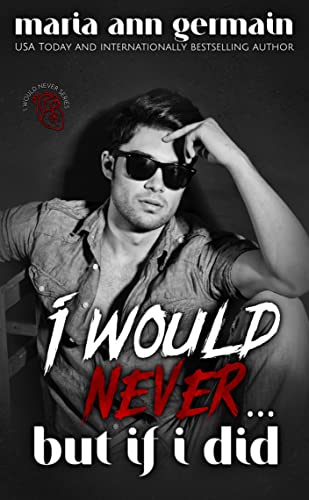 I Would Never...But If I Did (I Would Never Companion series)
$2.99
(Please be sure to check book prices before buying as prices are subject to change)
She has to choose who she needs for this forever thing... when she's never needed anyone before. And choosing has hard af.

Taryn Sams doesn't believe in love. Period. And she never has, because every time she's gotten close her happiness has been ripped from her. Time and time again life has proved that the only thing worth believing in is the inevitability of her own - and everyone's - screw-ups.

For Austin Wright, Taryn is the one who got away. But really, if he's honest with himself, he pushed her away, with one hard shove. He shattered both of their hearts when he did the one thing he promised never to do -- betray her. But it's been years since then, and somehow Austin and Taryn found a way to be friends again, albeit dysfunctional ones.

Theo Evans is the other man in Taryn's life. He's also Austin's best friend. But, to be fair, he's been in love with Taryn longer. A lot longer. He accepts Taryn as she is, broken, and he's willing to do whatever it takes to be the one she chooses in the end.

Taryn's world goes from boring to bat-shit crazy when she and Austin come back together like magnets, unable to resist the pull to each other. So she gives him another shot. But Taryn refuses to let go of her relationship with Theo even while starting up again with Austin. To say she's a mess would be the understatement of her life. While juggling the two men, she's hoping that her once-bitter heart will eventually open up and tell her which to choose, praying that she isn't deluding herself yet again about what's real and what's possible.

Can love win Taryn over, or will she screw up her own life yet again, and the lives of at least three others in the process?

Digital Books

Book Length: Novel – 150-320 Pages
Leave a review about I Would Never...But If I Did (I Would Never Companion series). Login Now