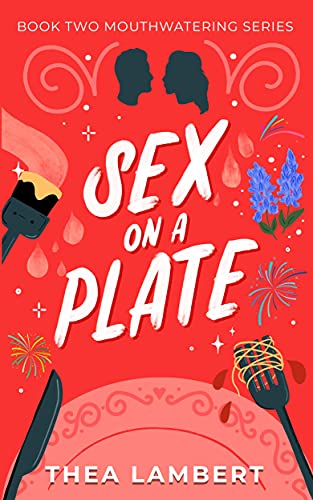 Sex On A Plate: A Tasty Romantic Comedy (Mouthwatering series, Book Two)
By Thea Lambert
$3.99
(Please be sure to check book prices before buying as prices are subject to change)
It's her time to follow her dreams.
After years of postponing her desires to help those she loves, Lulah is ready to take the plunge, traveling the world and focusing on her art.
But a sexy and ambitious chef has other plans for her.
Des Jordan is talented, driven, and about to open his first restaurant. He wants Lulah to create a mural for the space. But the artist isn't interested until Des makes her an offer that she'd be crazy to refuse.

Spending their days and nights together, Des and Lulah's attraction to one another grows until it explodes into a night of passion. Neither is interested in pursuing a romantic relationship that might disrupt their ambitions, so they agree to a "friends with benefits" relationship while Lulah remains in town.
But what happens when their temporary arrangement begins to feel like something more?

"The author has brought out the ups and downs of not being real with ourselves, in a fun and light-hearted way. This is a book I strongly recommend for those desiring to disrupt the monotony of a routine life. It helps you relax and smile. Especially in present times, we need more of this!" Meera Jhogasundram

Note: Each book in the Mouthwatering series is a standalone story with its own HEA!
Digital Books

Book Length: Novel – 150-320 Pages
Leave a review about Sex On A Plate: A Tasty Romantic Comedy (Mouthwatering series, Book Two). Login Now