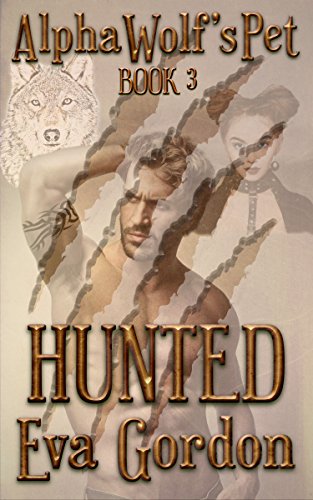 Alpha Wolf's Pet, Hunted Book 3
By Eva Gordon
$2.99
(Please be sure to check book prices before buying as prices are subject to change)
In the sequel to Book 2, Alpha Wolf's Pet, Kept, the trilogy concludes with Alpha Wolf's Pet, Hunted.

Living with werewolves is a lesson in Mia's fragility, and stretching the limits of their antiquated pack protocol wears on everybody's nerves. Nonetheless, Mia is an official member of their pack, and Dominic's lover. Satisfied with their romantic and sexy exclusive arrangement, Mia is devastated when Chandra, Dominic's fiancée, arrives during his absence.

Dominic is worried. Is his love for Mia really his addiction to her blood? Will she eventually become his blood mistress and belong to her, commanding his body and soul? Before he can resolve the issue, the Russian Chess Piece mob strikes his territory. Faced with the king's command to mate his werewolf fiancée, and the mob, he has no time to explain before Mia does what she does best. She runs.

Danger looms for Mia and all werewolf kind as secrets are revealed about the mob pursuing her. But most disturbing of all, is the Lycan Intelligence Agency's sudden interest in Mia's DNA. Will new revelations destroy their love and crush their future?

If you enjoyed the Alpha Wolf's Pet universe, you might want to continue with the spinoff, Team Greywolf Series. Suspenseful Paranormal Romance.
Digital Books

Book Length: Novel – 150-320 Pages
More Books in this series from Eva Gordon
Leave a review about Alpha Wolf's Pet, Hunted Book 3. Login Now