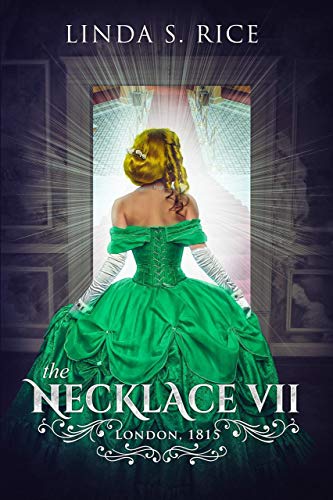 The Necklace VII: London, 1815
By Linda S Rice
$0.99
(Please be sure to check book prices before buying as prices are subject to change)
After crossing the rainbow bridge in 2037…and hoping to spend a new life together without the strife and heartbreak they most recently experienced…James and Susan agree to travel back in time to 1815 Regency England when Susan's magical necklace was first created.
But after Susan enters the body of Lady Susanna Sheffield, daughter of the Duke and Duchess of Bradford and James becomes Lord James Lynton, Viscount Hollingsworth, they discover, much to their dismay, that the difference in their social status is only one obstacle to overcome.
Susan is still the independent, stubborn, and impetuous female she was back in the future, and James has not lost his arrogant, bossy, and controlling nature despite their vow to change.
And, in addition to the Duchess deciding a mere Viscount isn't good enough for her daughter, a wealthy Italian Count decides he wants Lady Susanna for his Contessa and commissions a magical necklace from Alchemist Dr. Thaddeus Holloran that will bind her to him for life.
Will the Count succeed in placing the magical necklace around Susan's neck? Will the Duchess be able to keep James and Susan apart?
But most important of all, will this fiery couple be able to adapt to the strict rules and conflicting morals of an era over 200 years back in time without creating new discord between them?
Digital Books

Book Length: Long Novel – 320-650 Pages
Leave a review about The Necklace VII: London, 1815. Login Now