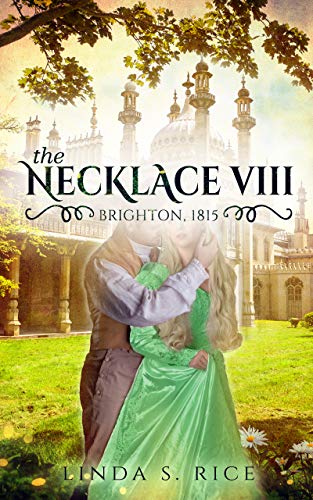 The Necklace VIII: Brighton, 1815
By Linda S Rice
$0.99
(Please be sure to check book prices before buying as prices are subject to change)
After the whirlwind of her first Season, her come-out ball, and surprise betrothal to Viscount Lord James Lynton, Lady Susanna returns to Bradford Park with her mother. During her brief stay at home, she meets her future mother-in-law, Lady Emily, before being unceremoniously whisked off to Brighton.
The cream of the ton follows the Prince Regent there, curious about his royal guests, a Persian Price, and two Danish princesses. Will Susan's interference in the betrothal of Prince Zayan and Princess Petrina result in a royal scandal?
To Susan and James's consternation, Lord Justin Pelman, still determined to break their engagement and marry the rich heiress himself, also follows the nobility to Brighton to plot with Susan's mother, who favors Lord Pelman over the Viscount. When the plot begins to falter, Justin enacts desperate means to obtain his goal.
Susan experiences a shock when her father, the Duke of Bradford, introduces her to Nigel and Caleb, her two half-brothers from Lady Harrington. But she is even more shocked when she discovers Caleb in a love affair with Sir William Campbell, a brilliant musician, recently returned from Vienna, knowing the penalty for such a relationship could mean death.
Will Susan and James be able to overcome the machinations of Lord Pelman and the Duchess to break their betrothal? But most importantly, will they be able to endure the one-year waiting period imposed by the Duke before they may wed?
Digital Books

Book Length: Long Novel – 320-650 Pages
Leave a review about The Necklace VIII: Brighton, 1815. Login Now