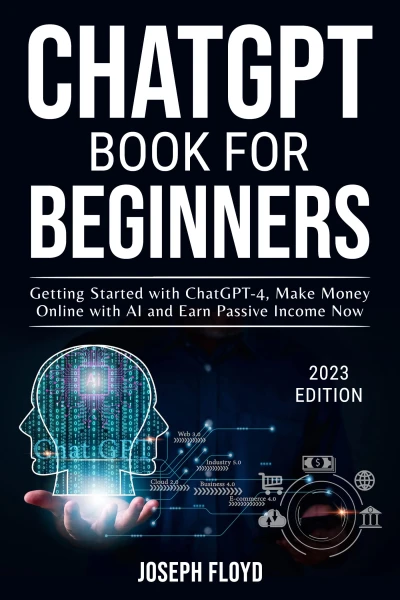 CHATGPT BOOK FOR BEGINNERS: Getting Started with ChatGPT-4, Make Money Online with AI and Earn Passive Income Now
By Joseph Floyd
$0.99
(Please be sure to check book prices before buying as prices are subject to change)
"CHAT GPT BOOK FOR BEGINNERS: Getting Started with ChatGPT-4, Make Money Online with AI and Earn Passive Income Now" is the ultimate guide for anyone interested in harnessing the power of artificial intelligence to transform their income and lifestyle. Written by AI expert and entrepreneur Joseph Floyd, this comprehensive guide aims to provide beginners with the knowledge, tools, and strategies necessary to successfully leverage ChatGPT-4, the groundbreaking language model developed by OpenAI.
With a combination of engaging, easy-to-follow content and practical, real-life examples, this book covers everything you need to know, including:
An introduction to ChatGPT-4: Discover the fundamentals of ChatGPT-4, its history, applications, and the technology that powers it.

Setting up your ChatGPT-4 platform: A step-by-step guide on how to access and utilize ChatGPT-4, with detailed instructions on API integration and platform setup.

Profitable AI business ideas: Uncover a range of innovative ways to use ChatGPT-4 to generate income, from content creation and freelance services to app development and AI-driven analytics.

Strategies for passive income: Learn how to create and maintain multiple streams of passive income using ChatGPT-4, optimizing your earning potential.

Marketing your ChatGPT-4 services: Master techniques for promoting your AI-powered services and attracting clients or customers, using both traditional and digital marketing methods.

Legal and ethical considerations: Understand the critical issues surrounding AI usage, including data privacy, intellectual property, and responsible AI deployment.
Whether you're a student, professional, or entrepreneur, "CHAT GPT BOOK FOR BEGINNERS" offers a wealth of information to help you navigate the world of AI-powered opportunities. By equipping you with the essential knowledge and practical advice you need to succeed, this book will empower you to transform your passion for technology into a thriving, profitable venture. Don't miss your chance to stay ahead of the curve and capitalize on the ChatGPT-4 revolution!
Digital Books

Book Length: Novella – 60-150 Pages
Leave a review about CHATGPT BOOK FOR BEGINNERS: Getting Started with ChatGPT-4, Make Money Online with AI and Earn Passive Income Now. Login Now