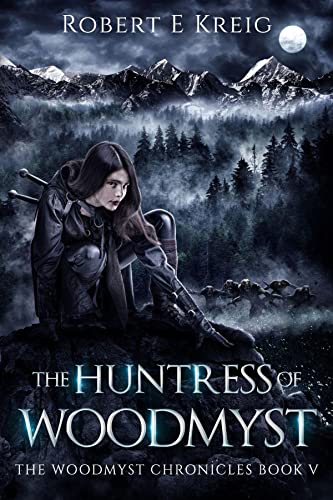 The Huntress of Woodmyst: The Woodmyst Chronicles Book V
$3.99
(Please be sure to check book prices before buying as prices are subject to change)
Woodmyst flourishes, emerging from a quaint hamlet into a city over a short span of time.
The new walls surrounding the community have been all but completed and the population continues to grow.
Crops are harvested, livestock is flourishing and the stores are fully stocked.
Woodmyst and her allies appear to be enjoying a bountiful time of peace.
All except for Alice Warde, a twelve-year-old girl who feels less at home in the thriving city than she does in the wilds of the woodlands and beyond.
Possessing the traits of a well-trained soldier, weaponsmith and tracker, the girl has learnt the art of survival from a very young age.
Alice is unlike any other, possessing newly acquired abilities and talents, similar to those of her mother and aunt, that evoke fear amongst a number of the citizens of Woodmyst.
As the girl establishes a home away from the community, new threats from the north make their way towards the city.
Alice has inadvertently made herself the first line of defence for Woodmyst.
Will her skills be enough to help her?
Can she survive on her own?
If not, what will become of Woodmyst?
Digital Books





Other Stores
ASIN:
B09YY9TG6G
ISBN:
9780645384512
Book Length: Long Novel – 320-650 Pages
More Books in this series from Robert E Kreig
Leave a review about The Huntress of Woodmyst: The Woodmyst Chronicles Book V. Login Now