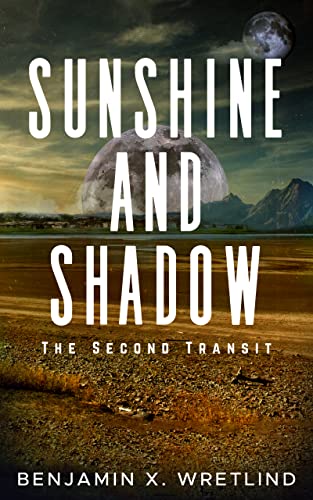 Sunshine and Shadow: Exodus, or The Second Transit: A Sci-Fi Adventure Novel
$6.99
(Please be sure to check book prices before buying as prices are subject to change)
Devastation looms. When their peaceful planet turns against them, can these descendants from Earth survive an increasingly hostile home?
Miriam Michaels is not ready. Forty years after her grandfather followed a cult prophet through a wormhole, she worries about being set adrift in the new world's community. And as a relentless rain continues to beat down, she fears the rising waters will destroy their way of life.
With the land overrun by floods, Miriam and her people flee to higher ground while the relentless torrent claims those too old or weak to escape. And the hesitant young woman senses the group's imminent fracture if she doesn't become the leader needed to guide them to sanctuary.
Can she evade the deluge and see them all safe?
Sunshine and Shadow is the riveting second book in the Transit anthropological science fiction series. If you like engaging characters, fast-paced drama, and emotionally charged chaos, then you'll love Benjamin X. Wretlind's dark adventure.
Buy Sunshine and Shadow today to make it to another tomorrow!
"An engaging, personality-driven tale with detailed SF worldbuilding." — Kirkus Reviews
"Wretlind knocked it out of the park with the first installment in the series, and readers like me are going to happily buckle up for the Second Transit." - B.R. O'Hagan, author of Scoundrel in the Thick and Martin's Way
"Wretlind has an active imagination and writes beautifully. Thank you for this masterpiece." - Readers' Favorite
Digital Books

Book Length: Long Novel – 320-650 Pages
More Books in this series from Benjamin X. Wretlind
Leave a review about Sunshine and Shadow: Exodus, or The Second Transit: A Sci-Fi Adventure Novel. Login Now