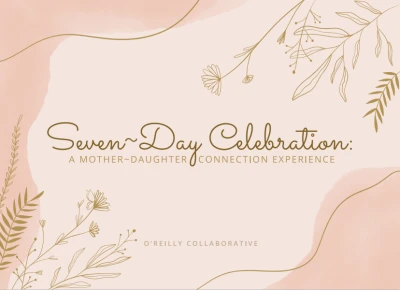 Seven~Day Celebration
$7.99
(Please be sure to check book prices before buying as prices are subject to change)

Give
the gift of time and connection!

This book is for a
mother and her adult daughter to share some meaningful multi-sensory
experiences together over 20-minute video calls for seven days. The
activities can be adapted to accommodate multiple daughters.
We wrote this book
with the hope that you and your mother or daughter can have some of
the wonderful experiences we shared in 2022, including greater
connection and empowerment between the two of you.
In order to
participate fully in the experiences, each mother and daughter should
have a copy of the book. The seven days can be centered around
special events like Mother's Day or a birthday or just any ordinary
day you want to create that special feeling of connection. The
experiences are designed to help strengthen your mother-daughter
relationship. In the end, this book will be a keepsake of your time
together!
Celebrate your
connection!

Digital Books

Book Length: Short Story – 0-60 Pages
Leave a review about Seven~Day Celebration. Login Now