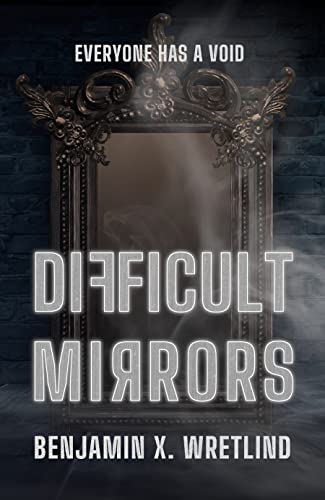 Difficult Mirrors: A Dark Fantasy
$3.99
(Please be sure to check book prices before buying as prices are subject to change)
"Combining horror, fantasy & mystery with elements of the traditional hero's journey, A Difficult Mirror contains a unique & detailed plot, rich characterization & a very real sense of danger…" - Michael K. Rose, author of The Emberlyn Chronicles and The Sullivan Saga

"Read this - it will blow your mind." - Scott Bury, author of The Bones of the Earth, Army of Worn Soles and many more

Everyone has a void. Who - or what - will fill it? A journey through limbo to the gates of Hell and a way home is wrought with love, loss and pain.

When Marie Evans meets a strange man on a deserted road and a body is found mutilated in the desert, a deep resentment teetering on the edge of release is about to explode. Someone, somewhere has drawn a line in the sand, and when Harlan Reese, Marie's ex-lover, enters a forest in central Arizona looking for his daughter, that line will be crossed.

In a world between Heaven and Hell, the past becomes the present as Harlan and Marie find each other...and so much more. Four-year-old Justine is lost to the world and with her an ability feared by many. An elderly man wanders alone with a deep secret. A broken detective is torn between duty and hopelessness.

And hidden within the void in which they're trapped, something wants them all dead.

Facing the past sucks. Life is, after all, a difficult mirror and not everyone leaves that mirror unbroken.

When the past becomes the present, how difficult is your mirror?

Digital Books





Book Length: Novel – 150-320 Pages
More Books in this series from Benjamin X. Wretlind
Leave a review about Difficult Mirrors: A Dark Fantasy. Login Now