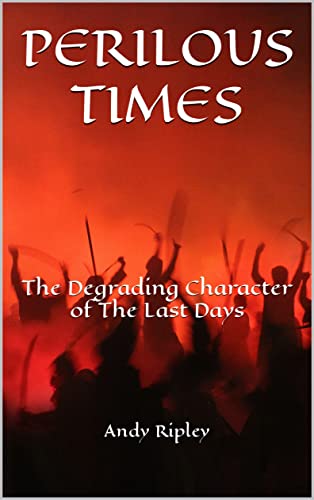 PERILOUS TIMES: The Degrading Character of The Last Days
By Andy Ripley
$5.99
(Please be sure to check book prices before buying as prices are subject to change)
Perilous Times: The Degrading Character of The Last Days by Andy Ripley is a thought-provoking book that sheds light on the deteriorating moral and spiritual fabric of society in the last days as prophesied in the Bible.

In this captivating book, Ripley examines the challenges facing Christians in a world that is rapidly turning its back on God. With great depth of insight, the author presents a faithful exposition of II Timothy 3:1-5, which accurately reflects the moral decay, social unrest, and spiritual darkness that have begun to envelop the world already. He highlights the ways in which the increasing darkness of the world will enable the light of Jesus Christ in the lives of His followers to become a more profound testimony to the world than ever before.

Perilous Times: The Degrading Character of The Last Days provides a timely wake-up call to Christians to be alert and prepared for the end times. Through insightful analysis of scripture, the author shows how the last days will be perilous times for believers, but with faith, hope, and courage, they can overcome any obstacle.

Ripley's work is a disturbing reminder of the dangers that lie ahead for believers in a world that has spurned God. However, it also offers reassurance that God is still in control and provides hope for those who believe in Him. His book is an essential read for anyone seeking a deeper understanding of the significance of the prophesied end times.
Digital Books

Book Length: Novel – 150-320 Pages
Leave a review about PERILOUS TIMES: The Degrading Character of The Last Days. Login Now