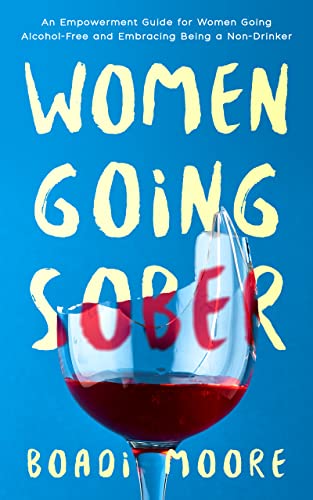 Women Going Sober: An Empowerment Guide for Women Going Alcohol-Free and Embracing Being a Non-Drinker
By Boadi Moore
$6.99
(Please be sure to check book prices before buying as prices are subject to change)
Whether you are in recovery, supporting someone in recovery, or simply looking for a source of inspiration and strength to rethink your drinking habit, "WOMEN GOING SOBER"is a book that will TOUCH YOUR HEART and leave you feeling empowered and uplifted.

From the pain of addiction and the shame of seeking help to the joys of self-discovery and the power of community and sisterhood, "WOMEN GOING SOBER" is a book that celebrates the resilience and courage of women who refuse to be defined by their past mistakes.

In this first book in The Sisterhood Series, author Boadi Moore offers many different TOOLS and TECHNIQUES for women to use as they navigate the ups and downs of sobriety, including the powerful technique of REFRAMING.

This book offers readers the following BENEFITS:

* Provides practical strategies and tools for women to quit drinking and embrace a sober lifestyle
* Offers a holistic approach to recovery, addressing physical, emotional, and spiritual well-being
* Recognizes the unique challenges that women face when it comes to alcohol addiction, including societal norms and the impact of trauma
* Offers guidance on how to navigate shame and stigma related to addiction
* Provides inspiration and encouragement through personal stories of women who have successfully overcome addiction
* Draws on evidence-based practices and research related to addiction and recovery
* Offers a supportive and empowering tone, encouraging women to take control of their lives and make positive changes
* Provides tips on how to stay sober and cope with triggers and cravings
* Offers guidance on how to build a support network and maintain healthy relationships
* Provides tools for self-reflection and personal growth
* Encourages women to prioritize self-care and cultivate a fulfilling and meaningful life in sobriety.

In this inspiring and uplifting book, the author shares the real-life experiences of women from all walks of life, from Gen Zers to Baby Boomers, who've struggled with addiction. Through their moving and often deeply personal stories, we are reminded of the POWER OF PERSEVERANCE, the importance of self-care, and the beauty of the human spirit.

Boadi Moore takes us on a RAW and UNFLINCHING journey through her own battles with alcohol and the many emotional and psychological challenges that came with her decision to get sober. With searing honesty and poignant prose, she explores the pain points that so many women face on their own paths to recovery - the feelings of shame, isolation, and self-doubt that can make it difficult to stay the course.

With a message of HOPE and INSPIRATION on every page, this book is MUST-READ for anyone who has struggled with addiction or supported a loved one on their own path to recovery.

When you purchase your copy of "Women Going Sober", you'll also receive a FREE bonus 'My Life - Reframed' JOURNAL to start reframing your life today.
Digital Books






Angus & Roberts
ASIN:
B0BT4W4LF6
ISBN:
978-0645716207
Book Length: Novel – 150-320 Pages
Leave a review about Women Going Sober: An Empowerment Guide for Women Going Alcohol-Free and Embracing Being a Non-Drinker. Login Now