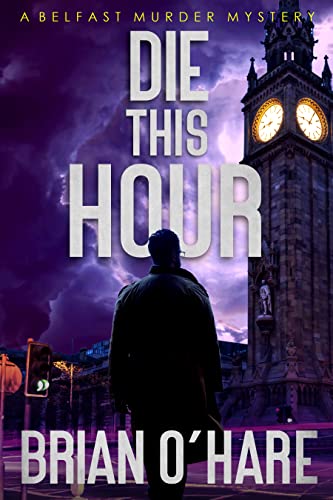 Die This Hour
By BRIAN O'HARE
$2.99
(Please be sure to check book prices before buying as prices are subject to change)
Read the spellbinding second book in the award winning Inspector Sheehan series

"An explosive mystery that keeps you guessing until the very end, riddled with twists and breathless suspense!"Angela Martin, Angela's Book Blogs

"I stayed up all night to finish this book! Inspector Jim Sheehan you are here to stay!" - Goodreads Reviewe

Three people are murdered on separate Tuesday evenings at precisely 11.05.
Why 11.05pm for each killing?
Who is the violent stalker who twice nearly kills Inspector Sheehan?
There are no answers, and the peaceful community of West Belfast is once again ripped apart by these vicious murders. As Inspctor Sheehan investigates, with his new sergeant Denise Stewart, long held secrets of the past are exposed, secrets that many would die to protect.

When one of his team is kidnapped, Inspector Sheehan knows its the last straw. With only minutes to save his colleague's life, has he left it too late?


The first thing I thought after reading this book is: why isn't Brian O'Hare better known in the crime writing world? This man is extremely talented, and his book a wonderful 'whodunnit' that left me guessing until the end. [Joseph Sousa, Crime-writer]

Head and shoulders above most mystery authors who are published today, Brian O'Hare deserves far wider recognition. You won't regret purchasing his books.[CBT, Amazon Reviewer]

Brian O'Hare is an intelligent and compassionate storyteller who takes his chosen genre a decent literary distance beyond your average 'whodunnit'.[Robin Chambers, author]

**Previously published as The 11.05 Murders by Crimson Cloak Publishing."
Digital Books

ASIN:
B0C1T84FWC
ISBN:
979-8392530076
Book Length: Long Novel – 320-650 Pages
Leave a review about Die This Hour. Login Now