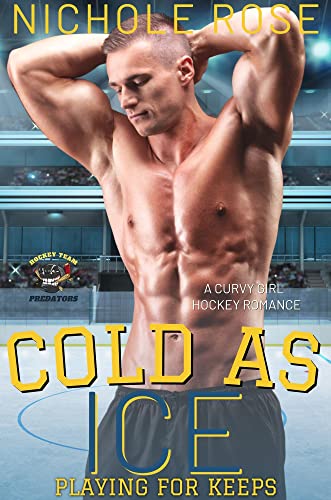 Cold as Ice: A Curvy Girl Hockey Romance (Playing for Keeps)
By Nichole Rose
$2.99
(Please be sure to check book prices before buying as prices are subject to change)
Captain of the team? He's not giving up until he's Captain of her heart.

Kris
When you're the Captain, you get what you want.
Until the one thing you want refuses to cooperate.
I've been chasing Kelsey, our feisty publicist, for years.
She won't give me the time of day.
I know she wants me too.
I see it in her eyes every time she looks at me.
But she runs as soon as I get close.
I've let her get away with it until now.
But the day she tries to quit without notice?
All bets are off. I'm claiming this curvy queen, no matter what.

Kelsey
Trying to keep this hockey team in line is exhausting.
It's like herding feral cats with a penchant for scandal.
They never do what I say. Except for Kris.
He's the only one who ever listens.
I've been in love with him for years.
But he doesn't know that I've been sick most of my life.
I've tried to protect him, but the truth is out now.
And I can't hide anymore.
But letting this man love me is the most terrifying thing I've ever done.
Am I strong enough, or are we on the fast track to heartbreak?

Warning
When the team captain makes a play for the publicist, he won't back down until he's Captain of her heart. If you enjoy laugh-out-loud comedy, steamy romance, over-the-top hockey players, and sassy heroines, you'll love Kris and Kelsey's emotional story. As always, Nichole Rose titles come with a sugary-sweet and guaranteed HEA.
Digital Books

Book Length: Novella – 60-150 Pages
More Books in this series from Nichole Rose
Leave a review about Cold as Ice: A Curvy Girl Hockey Romance (Playing for Keeps). Login Now