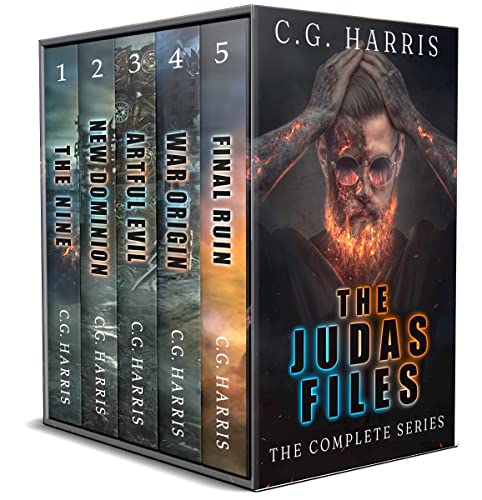 The Judas Files Complete Series Ebook Box Set (Books 1-5): Urban Fantasy Unhinged
By C.G. Harris
$9.99
(Please be sure to check book prices before buying as prices are subject to change)
Hell is not what you think … It's bone-chilling.

Gabe is a good guy making the best of eternity in a place not known for its hospitality — until he is recruited by Judas Iscariot (yes, that Judas) to join a sect of double agents dedicated to sabotaging the mayhem being released on Earth.

This 5 book complete series takes you on an action-packed supernatural adventure through hell, Topside (the living realm) and back to hell. The entire series is full of snark, humor and characters you'll be rooting for.

READERS LOVE THE JUDAS FILES
"A clever, inventive story with just enough humor to take the edge off the inherent gloom of Hades. I did not expect to want to read the further volumes in the series but that changed, the longer I read. I liked the characters too much not to want to know what happens to them next. Sometimes, Gabe can be a kick in the pants! He often made me laugh out loud." ~Charlotte

"Each successive book just expands on the setting, characters, and themes of the one before it, drawing you further and further into the world of Gabe, Zoe, and Alex (and Quack, of course) until you feel like they're your slightly cooler and more edgy BFFs."

This 5-book box set includes the complete Judas Files series (and one bonus short story).

BOOK 1 The Nine
Armed with a skill set of irritating quips and zero knowledge of the modern world, Gabe must figure out how to work with his beautiful, tough-as-nails partner without botching the mission or revealing his true identity. If this unlikely hero can't figure it out before disaster strikes, facing the wrath of Hell will be the least of his worries …

BOOK 2 New Dominion
Ghostly brawls, voodoo magic and a manhunt for a power-hungry dead guy. Underworld double agent Gabe Gantry can't stop screwing up. And why can't he have a cool Topside superpower like his partner Alex? Trying to commit covert good deeds from inside Hell is a devilishly tricky balancing act and the scales have just tipped.

BOOK 3 Artful Evil
Runaway Trains, Demon Mimes and a bar where the booze won't get you drunk? Just another day in the life of a Judas Agent. Gabe thought he knew his partner, but when she takes on a freelance project to murder a few thousand people, he's not so sure.

BOOK 4 War Origin
A duck, a motorcycle gang and a voodoo princess walk into a bar in Hell... No punchline, just life in The Nine. Gabe's soul is leaking like the head gasket on an old Ford and every Demon in the underworld is out to slurp up his oozing essence.

BOOK 5 Final Ruin
Ancient Relics, Forbidden Mantels and Death … A perfect day to call in sick at The Judas Agency. Alex has her hands full with a Freshborn Gabe. His memories are gone and his squeamish demeanor has her wanting to shove him back into the Sulfur Pools. Gabe questions whether or not he is better off without his memories when a secret about Alex is uncovered putting their partnership at risk.
Digital Books





Book Length: Epic Novel – 650+ Pages
More Books in this series from C.G. Harris
Leave a review about The Judas Files Complete Series Ebook Box Set (Books 1-5): Urban Fantasy Unhinged. Login Now